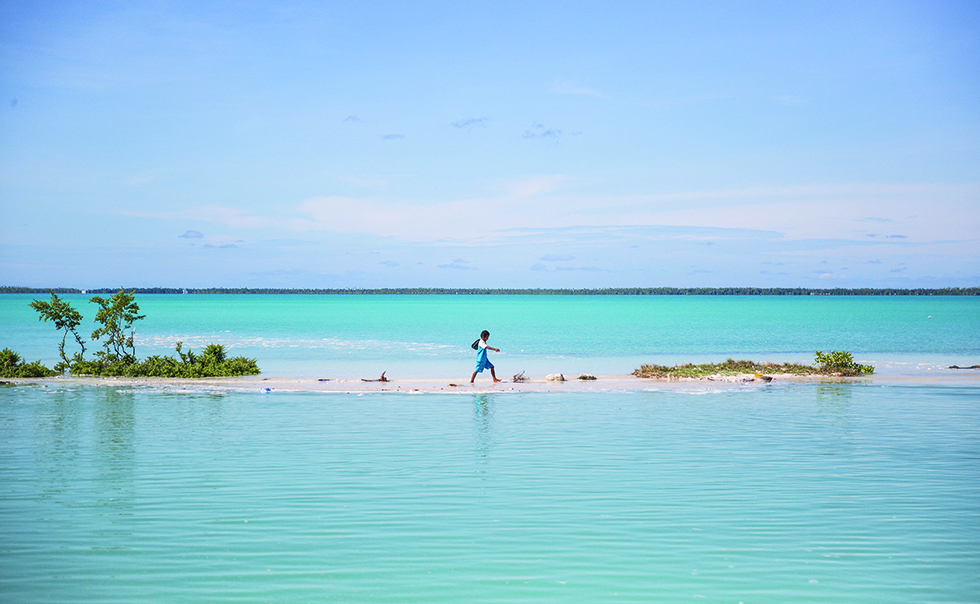 UNU-EHS at #COP23
At the UN Climate Change Conference this year, the nations of the world will meet to advance the historic Paris Agreement. As the negotiations are taking place in Bonn – on the very same stretch of the city that UNU-EHS calls home – this year our institute will be sending a wide-ranging expert delegation of environmental specialists. From climate change and migration, climate risk insurance, disaster risk management to sustainable urban development, our expertise cuts across many of COP23's most urgent themes.
---
Key UNU-EHS events
Our specialists will be taking part in an array of events throughout COP23. Highlights include two dedicated UNU press briefings:
The first is focused on human rights and climate change, and will take place on Thursday 9 November at 11am in the Bula Zone, featuring the work of legal expert Dr Cosmin Corendea and migration expert Robert Oakes.
The second is on the Munich Climate Insurance Initiative, and will take place on Friday 10 November at 11am, also in the Bula Zone.
Our legal expert, Cosmin Corendea, will be taking part in the Cambridge Group climate law and governance day, hosted by University of Bonn, on Friday 10 November. The event brings together leading climate law and governance experts to share best practices and build capacity.
A number of UNU's insurance and disaster risk management specialists are also involved in the launch of the InsuResilience Global Partnership for Climate and Disaster Risk Finance and Insurance Solutions, which aims to enable more timely and reliable post-disaster response, and helping strengthen local resilience over time. The launch will take place on Thursday 16 November, 9.00am-5.30pm, at Deutsche Welle, right beside the UN Bonn campus.
Our colleagues at the Munich Climate Insurance Initiative have been awarded a Momentum for Change award for their work on the Livelihood Protection Policy, and they will be celebrated at a showcase event on Tuesday 14 November, at 6pm.
A number of our specialists will also be delivering public lunchtime lectures in partnership with the Centre for Development Research (ZEF), titled "It's getting hot in here: Biodiversity and Ecosystems in Climate Change".
---
Follow us at #COP23
For live updates and commentary throughout the negotiations, follow us on Twitter and Facebook, or follow the #unuehs hashtag.
---
UNU #COP23 calendar
For the latest calendar information, click here.
Alternatively, you can subscribe to our COP23 Google calendar here
---
UNU-EHS expert delegation at COP
For a fuller biography of expert and their areas of study, click here.
---
Featured research
The Munich Climate Insurance Initiative (MCII)
MCII is a leading innovation hub on climate change and insurance, recognized among governments and policy processes like UNFCCC and ISDR´s Hyogo Framework. MCII pioneers concepts for new ways of applying insurance to risk management and adaptation.
Critical Infrastructures Resilience as a Minimum Supply Concept (KIRMIN)
Kirmin is a collaboration of engineering, social and planning scientists as well as policy stakeholders to analyze the inter-dependencies between essential pillars of critical infrastructure supply. It focuses on the necessary minimum supplies of the population potentially affected by infrastructure breakdowns due to extreme natural hazard events.
The World Risk Index developed by UNU-EHS describes the disaster risk for various countries and regions. The main focus of the report is the threat from, or exposure, to key natural hazards and the rise in sea level caused by climate change, as well as social vulnerability in the form of the population's susceptibility and their capacity for coping and adaptation.
The Gibika project: livelihood resilience in Bangladesh
A climate-resilient and sustainable future for people in vulnerable countries starts with resilient livelihoods. The aim of the Gibika research-to-action project is to advance the scientific understanding of livelihood resilience in Bangladesh, and to apply conclusions towards community-led solutions that improve the living conditions of vulnerable people.
Sustainable adaptation of coastal agro-ecosystems to increased salinity intrusion (DeltAdapt)
The DeltAdapt project explores the socio-ecological sustainability of coastal agro-ecosystems in the Mekong and Red River Deltas, Viet Nam, and their adaptation and adaptability to salinity intrusion and market challenges. Particular attention is paid to rural-urban-linkages in relation to the massive urbanization process in both deltas. Additionally, DeltAdapt aims to develop options that enable farmers to stop the ongoing removal of topsoil and to reverse soil fertility loss.
Pacific Climate Change and Migration (PCCM)
The overall goal of the project is to increase the protection of Pacific Islanders who are vulnerable to the impacts of climate change displacement. The project purpose is to improve capacity to better plan and manage the impacts of climate change on migration.
Sustainable Integrated Management For the NEXUS of water-land-food-energy-climate for a resource-efficient Europe (SIM4NEXUS)
Land, food, energy, water and climate are interconnected, comprising a coherent system dominated by complexity and feedback. The integrated management of the this, the Nexus, is critical to secure the efficient and sustainable use of resources. SIM4NEXUS will develop innovative methodologies by building on well-known and scientifically established existing "thematic" models, simulating different components/"themes" of the Nexus.
---