2015•06•18 Germany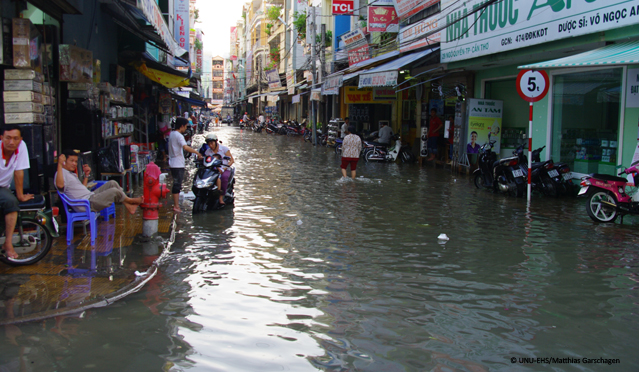 Often when people think of climate change adaptation they think of adjusting and reconstructing physical infrastructure, such as building sea walls, to make places more resilient to natural hazards. However, UNU-EHS researchers Dr. Matthias Garschagen and Thomas Abeling argue that adaptation must also involve adjustments in how state and non-state actors manage risk recovery and mitigation, from institutional configurations to decision-making processes. Today Thomas presented on the importance of adaptive urban governance in risk mitigation and recovery at the Rebuild by Design exhibition and symposium in Munich.
In their presentation, Matthias and Thomas explored how recovery processes after major disasters can provide opportunities to critically re-think and re-organize how risk mitigation is managed and governed by state and non-state actors. They also called for new forms of adaptive urban governance that go beyond conventional patterns of risk management and recovery planning. This can include, for example, the protection of social and physical functions vital for urban development, rather than a focus on adding robustness to individual infrastructures. Focusing on cities, which contain a high concentration of physical infrastructure as well as complex governance structures, Matthias and Thomas punctuated the presentation with lessons learned from case studies on flooding in Viet Nam and heat waves in London. The presentation traced, for example, how a changing political economy in Viet Nam lead to the gradually increasing importance of private sector actors in urban planning and development processes, and how this resulted in tensions and obstacles to sustainable planning interventions for future flood risk scenarios
The Rebuild by Design exhibition and symposium in Munich examines Rebuild by Design's interdisciplinary approach to proposing and developing sustainable, fair interventions for risk reduction and climate adaptation. Through collaborations between designers, researchers, community members, and government officials Rebuild by Design seeks to change the way planners and governments approach both disaster response and emergency preparedness.