2015•05•14 Indonesia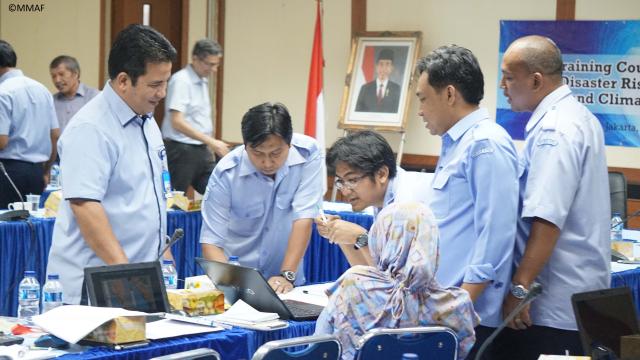 A training course on Ecosystem based Disaster Risk Reduction (DRR) and Climate Change Adaptation (CCA) took place from 11-13 May in Jakarta, Indonesia. The training course was organized by the Ministry of Marine Affairs and Fisheries (MMAF), Republic of Indonesia in partnership with the United Nations University Institute of Environment and Human Security (UNU-EHS), the United Nations Environment Programme (UNEP), and the EcoShape Consortium.
With approximately 17,000 islands and extensive coastlines, Indonesia is one of the most at-risk countries with respect to natural hazards. Many communities are exposed to coastal erosion, inundation, storm surges and tsunamis. Increasingly, several ministries, including MMAF are considering ecosystem-based solutions for disaster risk reduction (Eco-DRR) and climate change adaptation (EbA).  MMAF has been a key player in promoting and mainstreaming Eco-DRR and EbA using coastal and marine ecosystems through several disaster risk reduction and climate change programmes. Currently, MMAF has programmes on coastal protection that involve mangrove and coastal forests as well as combining grey (e.g. sea walls) and green (e.g. mangrove ecosystems) infrastructures through hybrid engineering to combat eroded coastlines.
MMAF requested UNU-EHS to co-organize an introductory course on Eco-DRR for staff that was based not only in the capital city Jakarta, but also from a number of other provinces in Indonesia such as West Kalimantan, East Nusa Tenggara, Riau, and Banten. Participants from the Indonesia Climate Change Trust Fund (ICCTF) and the Indonesian Institute of Sciences (LIPI) also took part in the training.
The course featured sessions led by experts from UNU-EHS (Dr. Fabrice Renaud), UNEP (Dr. Karen Sudmeier), and EcoShape Consortium (Mr. Tom Wilms). In these sessions experts focused on, among other topics, understanding why ecosystems are crucial for DRR and CCA, the new Sendai Framework for DRR and future perspectives for implementation of Eco-DRR in the context of coastal protection.  In addition to the sessions, participants took part in group work exercises, such as mapping ecosystems and risks and building future scenarios.