2014•09•26 United States of America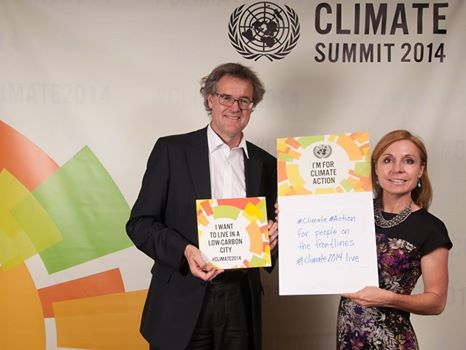 As part of the Climate Summit 2014 hosted by UN Secretary-General Ban Ki Moon, the United Nations University (UNU) hosted a thematic session on "The Economic case for Climate Action". The session featured leaders and world renowned experts from China, India, Mexico, and the U.S. who discussed what transformations are needed in how we produce food and energy, build cities and transport goods to ensure a healthy planet while fostering strong, climate resilient economies. They also explored what strategies, policies and investments we should pursue to bring these transformations to reality.
The session was co-chaired by the president of Turkey H.E. Mr. Recept Tayyip Erdoğan and the Prime Minister of Ethiopia, H.E. Mr. Hailemariam Desaleg, panelists included the Former President of México H.E. Mr. Felipe Calderón, Professor Jeffrey Sachs, Director of the Earth Institute at Columbia University,  Dr Leena Srivastava, Vice Chancellor at TERI University in New Delhi and Professor Jintao Xu, Director of the China Center for Energy and Development at Peking University.
In addition to the thematic session, Dr. Koko Warner, head of the Environmental Migration, Social Vulnerability & Adaptation Section (EMSVA) from UNU-EHS was also present as a climate change expert spokesperson, where she commented on key climate change issues to the media and the public.
UNU was very pleased to be able to participate in and support such a momentous day for climate action.