2015•03•25 Indonesia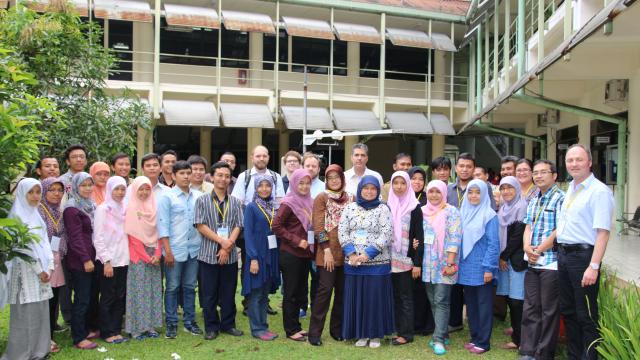 For the first time, UNU-EHS is running a four-day training course in Jakarta, Indonesia, in collaboration with Institut Pertanian Bogor, Indonesia. The course is on Climate Variability and Disaster Risk Reduction and is attended by 34 postgraduate students (18 female and 16 male).
Experts from UNU-EHS in Bonn, Germany are jointly instructing the course with lecturers from the Institut Pertanian Bogor. This approach enables area specific knowledge from Indonesia to be combined with the global knowledge and experience from UNU representatives, in addition to  strengthening UNU partnerships in Indonesia.
The course equips students with a greater ability to carry out vulnerability assessments of areas affected by climate change, propose solutions to resource management issues arising from climate change, develop and work with indicators, and develop a more thorough understanding of the Indonesian status regarding climate related hazards and disasters. The course structure facilitates these goals by teaching theoretical knowledge coupled with field exercises and case studies that are relevant to Indonesia.