2023•04•13 Bonn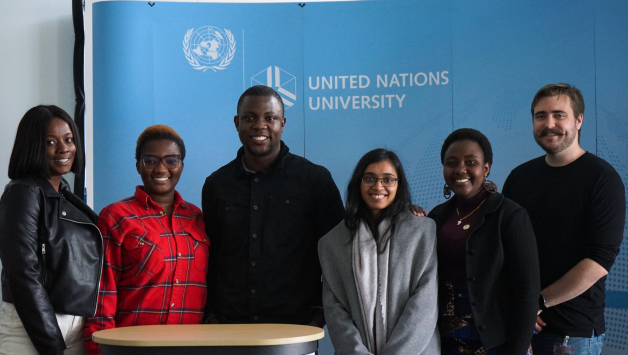 © UNU-EHS/Jimin Hwang
The spring brings a new feel to Bonn as cherry blossoms are in bloom and a new semester begins. The 2022 Cohort of the Joint Master's of Geography of Environment and Human Security returned to the UN Campus last week, ready to get back to work.
Their semester break was not without a little bit of fun though. While some used the spring break to explore Europe, others travelled home or took the short winter courses offered by UNU-EHS and the University of Bonn.
Judith Musa from Kenya travelled to Budapest, Vienna and Prague along with several of her classmates. "We wanted to visit these capitals and get a taste of Europe. We took the train and it was definitely a rich experience," she said.
It was a good idea to get the fun in while they could as the programme's curriculum now levels up. The first semester provided students with introductory knowledge on risk and human security, and in the second they must grapple with more advanced concepts.
"Last semester was already impressive. We learned the theories of risk and that disasters are not natural, but hazards like hurricanes are. They only become disasters when society is not prepared for them. We also learned about concepts of development and had important debates on them," said Musa. "I am excited to see where we go from here."
At UNU-EHS, the students kicked off the semester with "Ecosystem-based Adaptation to Disaster Risk Reduction and Climate Change Adaptation" as part of their module on Advanced Debates on Risk & Human Security. Other classes offered this semester include a research seminar on Hydrological Modelling under Global Change and a course on the Politics of Environmental Security.
That latter caught Musa's eye. "I applied for this Master's because of its focus on environment and human security. I think this class cuts to the core of what this programme is about," she said.
2021 Cohort starts their internships
The new year also marked the end of classes for the 2021 Cohort and opened the period where they can complete their obligatory internship and begin writing their theses.
Muhammad Fawwad of Pakistan recently completed his internship at DHL's GoHelp programme, the company's disaster relief arm. During his internship, he got hands-on experience in the field of humanitarian affairs and logistics.
"At DHL they focus on preparedness, as well as response. They aren't involved in rescue, but they are in logistics," said Fawwad. "They ensure a continuous flow of supplies and equipment."
The recent Türkiye-Syria Earthquake occurred during his time as an intern and much of his work was dedicated to the coordination of GoHelp's relief effort.
"Monday morning, when I found out, I opened my laptop and saw things were already in motion. I was part of the first meeting to plan our next steps. From then on, I was our information manager and was tasked with creating our daily situation reports," he said.
Internships like Fawwad's offer an immense opportunity to get experience in the fields of disaster risk reduction, disaster risk management, environmental policy and research.
"I saw much of the things I learned in class play out in a real-life, such as the UN OCHA alert and cluster system and how humanitarian teams get deployed," said Fawwad. "It was such a fast-paced environment and I never felt like I was an intern."
Students from the same cohort have completed internships or are currently interning at organizations such as the Red Cross, WWF, ICLEI, UN OCHA and UN-SPIDER.
The Joint Master's of Geography of Environment and Human Security is hosted by UNU-EHS and the Department of Geography, University of Bonn. Learn more about the Master's Programme here.