2015•04•14 Bonn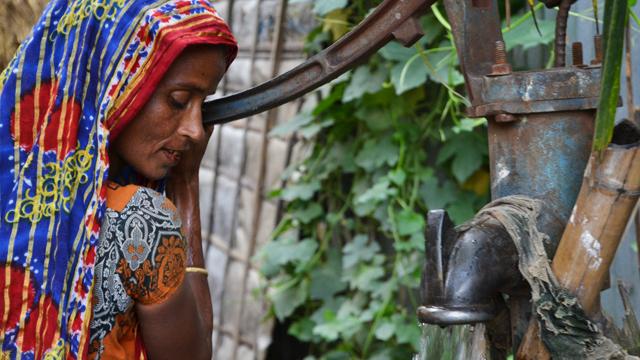 By Sonja Ayeb-Karlsson
I am the Project Manager for the Gibika (research-to-action) project in Bangladesh. The Gibika project aims to improve livelihoods and living conditions of vulnerable people in some of the seven project sites in Bangladesh through scientific research and community-led action. The project is named after the Bengali word for livelihoods, gibika.
I have been based in Bangladesh for about eight months on behalf of the project partners: UNU-EHS, ICCCAD and MRF. I am often out in the field visiting the Gibika project sites, which allows me to collect stories, observations and photos that show fragments of livelihood resilience in Bangladesh. Here are some stories and people who inspire me.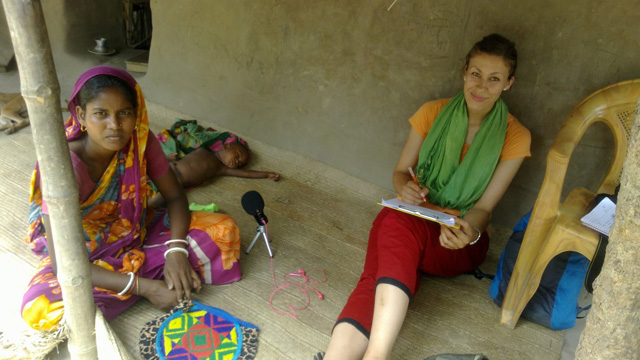 This is Shilpy Rai, an informant living in Babupur (located in the northeastern Rajshahi division). The people in Babupur are struggling with drought, shifting rainy seasons and dry spells. Shilpy's husband is a rice farmer so the household's livelihood security depends on two good crops a year. During a good season her husband usually harvests about 20-25mons (1mon=40kg) while a bad season usually means only 8-10mons. Last season was difficult. However, Babupur has managed to adapt to some of the environmental stressors. For example rainwater harvest, ponds and installation of deep tube wells have made it possible for rice farmers to go from one harvest (in rain season) to two or even three harvests (irrigated in dry season) a year. Though the deep tube wells might be a blessing for those who have access to its water, they have adverse long-term effects on the groundwater level. (From Gibika site Babupur, Rajshahi Division, Northwestern Bangladesh, June 2014).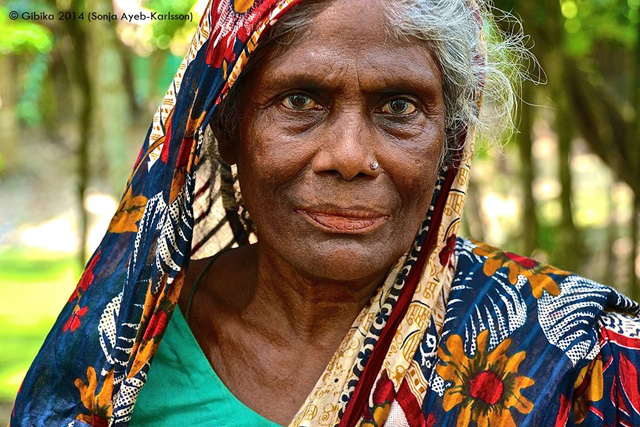 Reunited with Bhokul after four months. Bhokul had been waiting for me and started the conversation by making sure that I had visited my mother when I was in Europe. "You will never understand a mother's worry until you have a child of your own. You are lucky to have a mother in your country and one here in Bangladesh even though you didn't bring me a sari," she says. During the visit, I showed her our first Gibika photo film based on her livelihood story. "So now even after I pass away people will still be able to see me," she says after watching the video. (From Gibika site Dalbanga South, Barisal Division, Southern coast of Bangladesh, October 2014).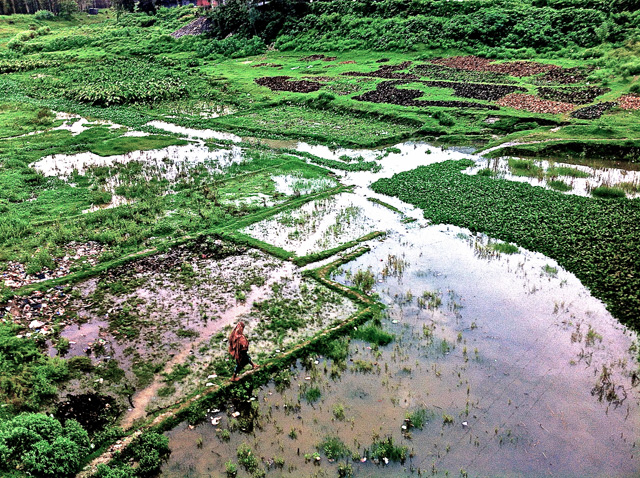 The minivan broke down for the fifth time on our way back to Dhaka from the north. You can sit around and wait for it to be repaired or you can go out on a photo hunt. Guess what I did? (Going back from Gibika sites located in northwestern Bangladesh, June 2014)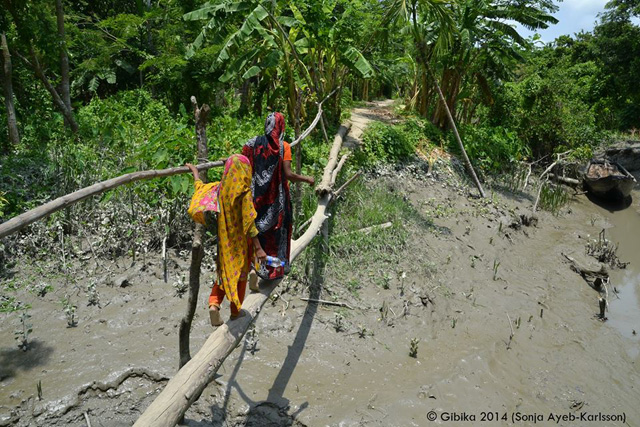 Nurjahan is taking her daughter over the long bamboo bridge in Gibika site Mazer Char. The bridge has been put up as a temporary solution after the road got destroyed by cyclone Aila in 2009. (From Gibika Site Mazer Char, Khulna Division, Southern coast of Bangladesh, May 2014).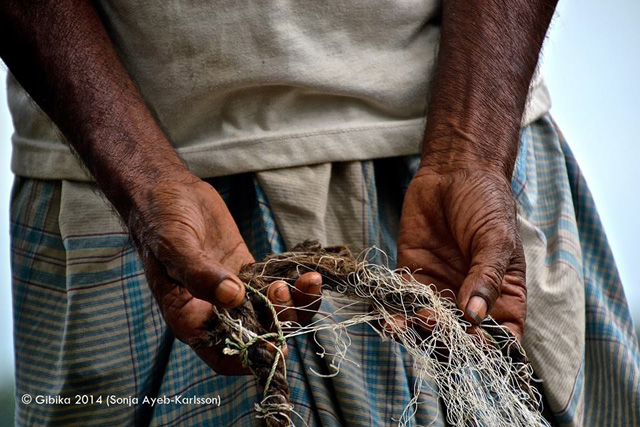 Nurmia shows me his fishing nets in Gibika site Mazer Char. Most households on Mazer Char depend on double livelihoods – usually by combining fishing and farming. Nurmia was the owner of 20 cows when cyclone Sidr struck the island in 2007. "I was quite well off before Sidr" he tells me. He used to sell the milk from the cows and had just managed to save up enough money to be able to send his oldest son to Saudi Arabia for work. Then the cyclone changed everything. He lost his wife in Sidr – they didn't manage to get to the cyclone shelter in time. They stayed behind to try to save the cows, but in the end 10 out of the 20 drowned. (From Gibika site Mazer Char, Khulna Division, Southern coast of Bangladesh, May 2014).