2015•12•16 Paris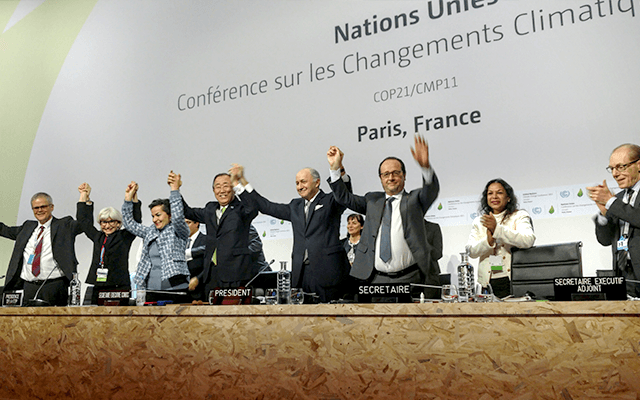 Around the world people are feeling compelled to leave their homes due to natural hazards that are exacerbated by climate change. Nowhere is this felt more acutely than in the Pacific Island States, where sea level rise, salinity intrusion and intensifying storms converge with low-lying islands.
With the inclusion of migration and human mobility in the final text of the new Paris COP21 agreement, the world has taken a pivotal step towards addressing the issue of environmentally induced migration. The challenge now is to determine how governments will account for, protect, and support people who are facing increasing impacts of climate change and who decide to migrate in search of better livelihoods.
To shed light on the issue, United Nations University Institute for Environment and Human Security (UNU-EHS) together with the United Nations Economic and Social Commission for Asia and the Pacific (UNESCAP) undertook the first-ever nationally representative household survey on climate change and migration in the Pacific. The Pacific Climate Change and Migration (PCCM) project undertook participatory research, including surveys and interviews with 6,852 individuals representing 852 households in Kiribati, Nauru and Tuvalu.
In a press briefing at COP21 on December 2, 2015 both partners presented the key results of the survey. Koko Warner, senior expert at UNU-EHS, explained, "Climate change is already impacting migration patterns in Kiribati and Tuvalu." In addition, Peter Craig-McQuaide, head of sustainable energy and climate change at EuropeAid underlined the value of the UNU-EHS research, recalling that "in order to design the best policies, knowledge is essential and this is why a project like this is important because it provides insights."
Subsequent international media coverage spanned around the globe, allowing UNU-EHS and UNESCAP to significantly contribute to awareness and understanding of migration in the context of climate change. Media coverage came from major news sources such as Reuters, the New York Times, Le Monde, DPA, Washington Post, Al Jazeera and Nature Magazine, with much of the coverage focused in North America, Europe and China. Additionally, the Pacific Islands News Agency (PINA) reported "More Pacific people opt to migrate due to climate change". Headlines ranged from a reiteration of the main message "On climate frontlines, Pacific islanders consider moving" to titles stressing the urgency to find solutions: "Disaster and Migration in the South Pacific: A Failure of International Law".
Progress on international agreements, especially on contested issues such as human mobility in the context of climate change, must be informed by science. The scientific results of the PCCM project are summarized in a fact sheet to inform policymakers, the media and the interested public. In light of the new Paris agreement, findings from projects such as the PCCM project build a rigorous empirical basis to develop a wider range of solutions for managing the risks of climate change, including safe, dignified human mobility.
Written by Ann-Kristin Matthe, UNU-EHS intern in the Environmental Migration, Social Vulnerability & Adaptation Section (EMSVA)