2022•12•08 Bonn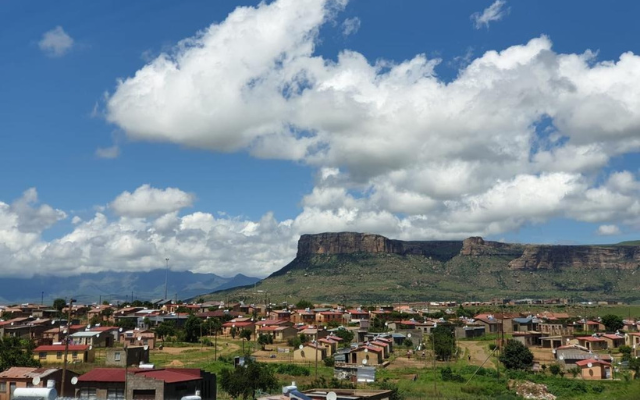 © Joerg Szarzynski
In the lead up to the International Mountain Day on 11 December 2022, the UNU-EHS and Eurac Research Global Mountain Safeguard Research team (GLOMOS) are calling for more inclusive perspectives on mountain research.
"This year's theme of `Woman move Mountains' is long overdue," said Jessica Delves, GLOMOS Scientist based at Eurac Research. "Women play a crucial role in environmental protection and social and economic development in mountain regions and communities, especially indigenous women, but their contributions have long been overlooked. They are often the primary managers of mountain resources, making them guardians of biodiversity, traditional knowledge and local culture."
Against the challenges and risks that mountain regions are facing this is no easy task. Rural development is not on track, and climate change has impacted livelihoods. As men are pushed to find work elsewhere, women have to bear more responsibilities but remain excluded from decision-making.
"The role of women as custodians of the environment and their knowledge of it cannot be overstated," says Joerg Szarzynski, Senior Scientist at UNU-EHS and co-head of GLOMOS. "Coupling these themes, gender/inclusion and mountain development, calls for an important narrative shift in development activities. A lot of today's research and development work towards the existing UN frameworks are still dominated by Western narratives. This carries the risk that traditional and local knowledge are not integrated into the discussion and that the cultural and spiritual importance of specific mountain areas is ignored," says Szarzynski. ''A 'Localization' of these activities is critical towards equitable transformative resilience in mountain regions, and governance structures need to be redesigned with local actors taking the lead in implementation."
Based on local leadership of the Afromontane Research Unit (ARU) of the University of the Free State (UFS), GLOMOS together with The Peaks Foundation and numerous other local actors are attempting to do just that in the Maloti-Drakensberg – Safeguarding and Preservation of the Dragon Heritage project in the transboundary region between South Africa and Lesotho. Southern Africa's mountains, such as those in the Maloti-Drakensberg Park, hold much of the regions freshwater and are rich in biodiversity. Therefore, they are essential for social and political stability.
Unsustainable grazing practices in the Maloti Drakensberg region are leading to soil erosion, food and water insecurity, and exacerbated poverty and migration. The Safeguarding and Preservation of the Dragon Heritage project aims to develop solutions at the local level to improve decision-making processes for water and land management and mitigate existing and future water conflicts. Fostering close collaboration between local communities and strengthening an African-based research 'community of practice' are key priorities for the project as well.
Because the land tenure is under blended leadership of both traditional and elected government authorities, it is integral they work with stakeholders at the grassroots-level. One of the project's major goals is to develop a model to promote the Sustainable Development Goals through traditional authorities.
As part of a current mission to the region the project is holding a meeting called an "Indaba" with the royal houses of the Batlokoa and Bokoena from Qwa Qwa in the Drakensberg region, who hold jurisdiction over strategic water source areas in southern Africa.
"Their traditional structures have been embedded in the social and political landscape since long before western forms of governance. The respect they receive from local communities can open doors for lasting and meaningful sustainable solutions," says Szarzynski.