2016•09•23 Bonn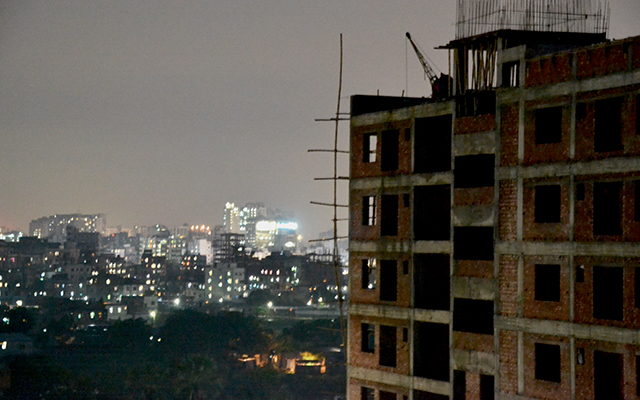 The Executive Committee of the Warsaw International Mechanism (WIM) for Loss and Damage associated with Climate Change Impacts comes together for the fourth time in Bonn, Germany between the 19 and 23 of September 2016. Non-economic losses and damages (NELD) are an important part of their agenda. NELD refers to the adverse consequences (avoidable, non-avoidable or non-adaptable) of climatic stress on items that are not traded in markets, but that have a strong meaning for people having to deal with such losses.
During her time in Bangladesh conducting research for the Gibika project on behalf of UNU-EHS, International Centre for Climate Change and Development and the Munich Re Foundation, UNU-EHS researcher Sonja Ayeb-Karlsson met Belkis (age 41) in Bhola Slum while she took part in the Livelihood History interviews. Gibika is a large scale research project aimed at advancing the scientific understanding of livelihood resilience in Bangladesh.
The Gibika study site is an urban settlement located in Dhaka, Bangladesh's capital. Many of the inhabitants moved there from Bhola Island after the devastating 1970 Bhola cyclone and therefore named the settlement Bhola Slum. Bhola Island is located on the southern coast of Bangladesh and the area is heavily exposed to riverbank erosion and frequent cyclones.
UNU-EHS researcher Ayeb-Karlsson describes her experience of conducting the Livelihood History Interviews in the urban settlement:
"When entering the narrow lanes of Bhola Slum in Dhaka, the heat and smell hit me straight in the face. I remember stopping, as I felt like I was about to faint. The temperature seemed to increase for every second as most dwellers had started preparing lunch on their fire stoves. It was hard to differentiate the humidity from the smells of food, garbage and sluice water.
"I made it to Belkis' house with my colleague. She had expressed an interest to take part in the interview. As we balanced up the long stairs to her house, she told me with a proud voice that her family was the only one in the slum living on the third floor: 'It is good when there is a flood because the water will not make it up to the third floor, but it can become a death trap if there is a fire', she explained.
"We sat down on her wooden floor. I pulled out my notebook and audio recorder. She started her story by telling me how life changed after her family had to leave Bhola Island and moved to Dhaka."
Belkis is one example of the losses people face due to climatic stress. As a result of climatic shocks, her family went through the loss of family members, homes and health. Belkis' family felt forced to move to the urban settlement in Dhaka. Belkis described her experience to UNU-EHS expert Ayeb-Karlsson:
"[When we moved to Dhaka] my father couldn't work as he was too old so my brother would support us economically…After he died my parents suffered and I had to start begging from door to door.…[If we would have stayed] I would have been able to take care of my health. We would have our land to cultivate so our living conditions would be better. We used to have our own land so we didn't have to run after people. The way of living there was good." (Belkis, 2014.06.15).
Belkis' family migrated here due to the riverbank erosion and cyclone strikes. After losing three houses to erosion and two sons in the cyclones, the family saw no other way out.
Research conducted in the context of the Gibika project has found that migration can be an effective way for people to bounce back from environmental shocks or to escape climatic stress. Migration can also, however, expose climate migrants to new risks, hazards and vulnerabilities when reaching their new destinations (Ayeb-Karlsson et al. 2016).
After Belkis' family moved to the urban settlement in Dhaka they were faced by new challenges and losses.
In the urban settlement of Dhaka, Belkis' family watched their house getting smashed into pieces as they got evicted due to illegal settlement. This was the fourth house they lost. They lived in a temporary house made of cardboard until Belki's mother got sick and nearly died from the cold. Belkis got married at the age of 12 due to economic pressure. When her brother, the main income earner in the family, passed away she had to start begging to support her parents.
As if that wasn't enough, the family faced an additional loss due to the dangerous working conditions in the city:
"My husband cannot work properly as he had an accident. While cutting mud on a hill he was struck by a sudden landslide. There was a pipe inside the hill and it broke creating a landslide and he fell down in a hole got buried. The other workers removed the mud and managed to save him. They took my husband to the hospital. Now when trying to work he faces a lot of problems. He has pain coming from two sides of his belly and sometimes when he coughs, blood comes out of his mouth." (Ayeb-Karlsson et al. 2016: Quote 28).
Some of the losses are economic, but others are not. The loss of health may indeed have an economic impact but it also means that Belkis' husband, for example, do not have the strength to play with his children or drink that afternoon tea with his wife. The hard work and difficult living conditions in the slum resulted in both Belkis and her husband getting severely sick. A large amount of their income is, therefore, spent on medicine and hospital visits. From time to time, their critical health conditions end up putting the family in debt.
Researcher Ayeb-Karlsson describes the family situation during the interview: "By the time we finish the interview Belkis needs to take her medicine. I glimpse over at her husband sleeping in the bed next to us. He hasn't moved or made a single sound during the whole interview. Belkis notices my worry and explains that as he worked yesterday he needs to rest today."
Belkis' story is a story of what may happen after a family migrates from rural to urban Bangladesh. A story that does not end at "we decided to migrate" or "we had to migrate". Belkis' life story begins when her family arrived in Dhaka, but she tells it differently. During the interview, she talks as if she was there. She describes it as if she went through the losses; as if she watched her house fall into the river, as if she moved, and as if she had to start all over again after reaching the capital. This is her story. Belkis never lived with her family on Bhola Island. She was born in another slum in Dhaka. Even though she was born in Dhaka her story does not start there.
Belkis has only been to Bhola Island twice, and about three or four days each time as she spent her whole life in Dhaka but she transmits a feeling of belonging somewhere else.
Well-being is 'the state of being comfortable, healthy and happy' . The loss of identity or belonging to a place can have crucial impacts on ones' well-being. Sustainable Development Goal number seven on 'health and wellbeing', wants to 'Ensure healthy lives and promote well-being for all at all ages' . That definition of 'well-being' is deeper than being healthy enough to work. This is an important step in the right direction when planning for a more sustainable future, and there is a lot more to be learned from experiences like Belkis'.
For more information on the Gibika project please visit our website or click here to read the full journal article ''A people-centred perspective on climate change, environmental stress, and livelihood resilience in Bangladesh'' published in Sustainability Science.