2021•07•07 Bonn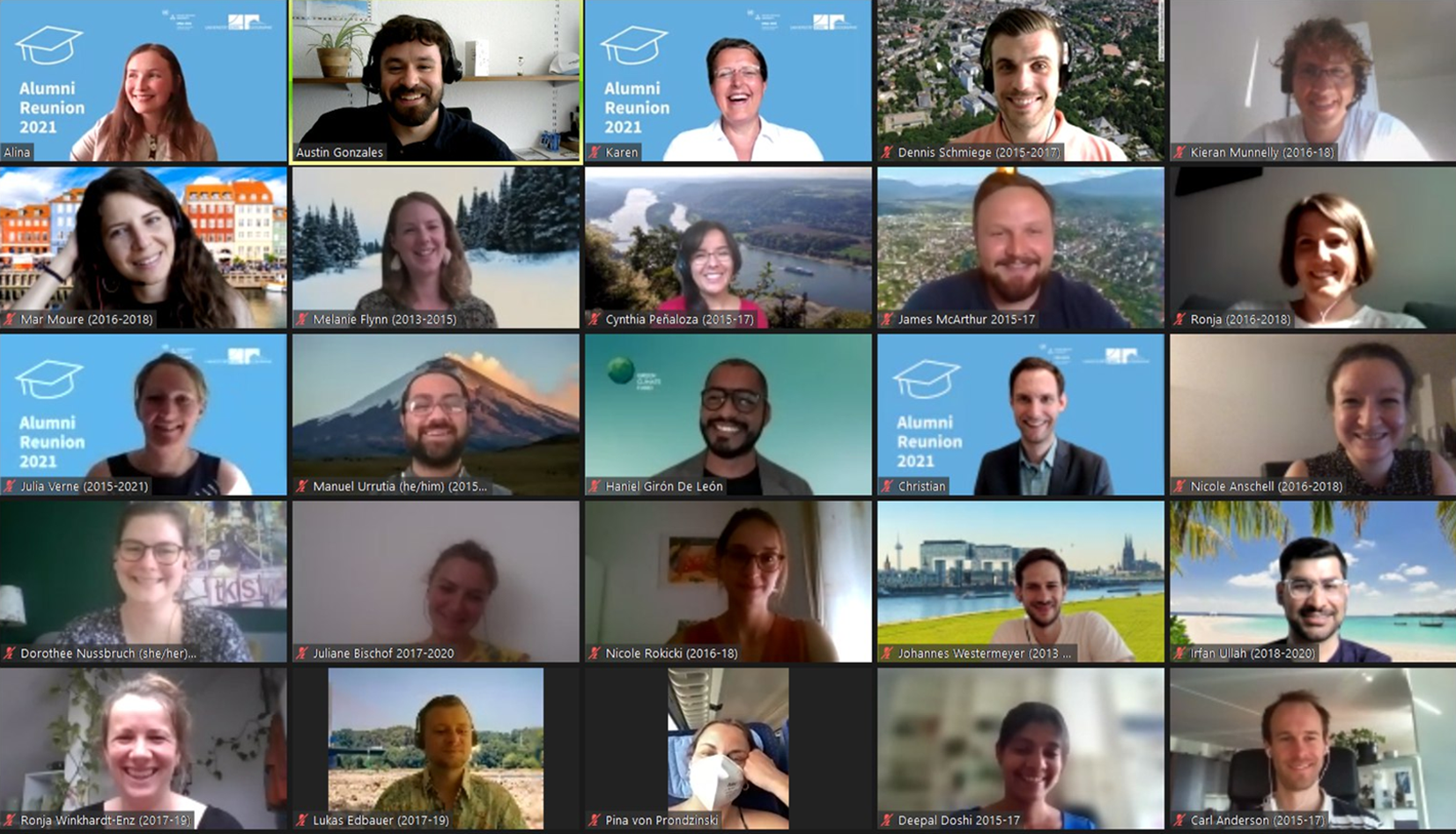 Alumni, faculty and staff of the Joint Master's of Geography of Environment and Human Security recently gathered virtually for the programme's first-ever alumni reunion. Although held online, the reunion didn't miss a beat in bringing the "GeoRisk" community back together.
Jointly hosted by UNU-EHS and the University of Bonn Department of Geography (GIUB), the reunion had a dedicated agenda complete with a nostalgic quiz, a video, lecturer addresses and alumni stories to set the atmosphere. To kick off the festivities, the reunion opened with a brief timeline and overview of the programme's history to now.
"It was good to see so many former students after the first 8 years and we are really proud of their successful career pathways," said Senior Scientist, Prof. Joerg Szarzynski, who first implemented the master programme together with Prof. Klaus Greve from the GIUB back in 2013. "Their success is a wonderful indication that we are doing the right things with the master programme."
The nostalgic quiz brought back some blasts from the past as well, as it took the alumni back to their journeys as students. It raised memories of many of their favorite activities like the excursions, hiking in the nearby Siebengebirge, meeting at the Rhein, and having bonfires. It also touched on some of the more sentimental topics. For instance, when asked what they would tell themselves as students now, the resounding responses were "enjoy the ride" and "don't be stressed." It was a fitting reminder of just how far they had come since their time as students.
On hand to provide alumni stories were Melanie Flynn, James McArthur, Kieran Munnelly, Annita Kirwa and Haniel Girón De León, all of whom represented different cohorts. Flynn, who is from the very first batch, is now a PhD candidate at the University of Leeds researching knowledge mobilization in community-engaged arctic research. McArthur is a GIS and DRR Specialist at REACH, a humanitarian NGO. Munnelly is a crisis management and resilience expert at Allianz, a global financial services company. Kirwa is also taking on her PhD, researching climate change and development at the University of Nairobi. Girón De León, a recent graduate, works as a climate policy and governance expert at the Green Climate Fund in Incheon, South Korea.
Although differing in their routes, the similarity in their success after graduation was hardly unnoticed. "Everyone is doing different things. We heard from Melanie, who is researching in the arctic, and Kieran, who is leading resilience in the private sector, which are both very unique things," said Girón De León, who comes from Guatemala. "The programme paves the way for so many opportunities afterward and we have applied our expertise to different areas. I was even learning new things."
The alumni are not surprised by how they have made it to where they are today either.
"We were taught to think critically, whether that is about risk, resilience, finance or international climate policy," said Girón De León. The programme's curriculum on the latter topics greatly contributed to his current work he said. "In climate finance, you need to be able to read the room. Your thinking needs to be attuned to climate policy and negotiations and the masters gave me the knowledge to have that mindset."
The feeling was also mutual for alumna Annita Kirwa of Kenya. "Personally, the master programme provided me with the tools and skills to confidently navigate the field of climate research, humanitarian affairs, and development work," she remarked.
In keeping with the spirit of a reunion, the event closed with a networking time that allowed the 38 alumni and faculty to personally catch up with each other.
"It was so great to see everyone. I noticed that the cohorts have remained close and remained together. We even interact with each other outside our batches too. I reach out to other alumni and professors for advice on certain topics. So, we have definitely found a way to continue to network and share our knowledge," said Girón De León.
Continued networking and knowledge sharing for former students has been a particular priority for the UNU-EHS Education Team. In the summer of 2020, they officially launched the UNU-EHS Alumni Network with the aim of facilitating such sharing between alumni, current students and staff. Among its priorities are to promote lifelong learning and to support professional development after graduation. The network is active on LinkedIn with a UNU-EHS Alumni page where highlights such as research publications, awards and upcoming events are shared.
The reunion was the first big occasion to celebrate such activities and developments for the alumni and definitely will not be the last. To date 117 students have graduated and that number will continue to grow by the year.
"All through our first reunion and you could feel the bonds and commitment that make our network flourish. We do feel proud to see the impact that they are making in their respective professional environments. And this is just the beginning," said Education Programme Manager Karen Hattenbach.
The Joint Master's Programme in Geography of Environmental Risks and Human Security is jointly offered by UNU-EHS and the University of Bonn, Department of Geography. To learn more about our alumni and alumni network check out our LinkedIn Alumni page.