2019•07•05 Bonn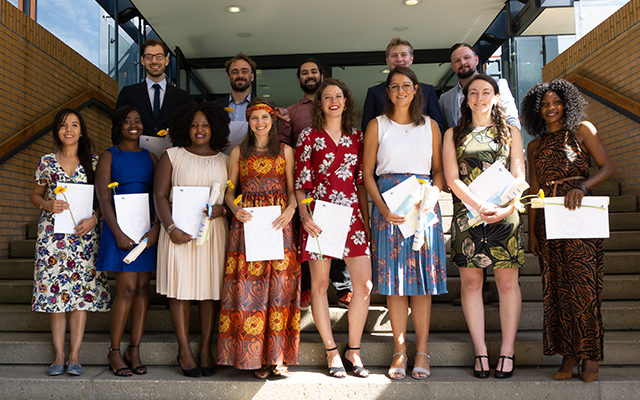 The third graduating class of the International Joint Master's Programme in Geography of Environmental Risks and Human Security celebrated the completion of their studies.
The 13 graduates this year gathered with families and friends to celebrate their achievements and their new journey out into the world. The graduates, from the 2015-17 and the 2016-18 cohorts, successfully completed their modules, gained practical experience through their internships, and, under the supervision of our UNU-EHS researchers and professors from the University of Bonn, developed their knowledge into Master's theses.
Professor Dirk Messner, Director of UNU-EHS, welcomed and congratulated the graduates: "For us, this day, together with you, is not a day when we come to an end, but we'd like to see a new beginning with you." Professor Julia Verne from the Geographical Institute at the University of Bonn followed, encouraging the graduates to take with them not only the certificate, "but also these diverse experiences."
Zita Sebesvari, Head of the Environmental Vulnerability & Ecosystem Services Section (EVES) Section at UNU-EHS and an advisor for the Master's Programme, emphasized that change is no longer negotiable for the world we live in, and implored the graduates to do what they can with what they have to make this world a better place.
Graduates Maria del Mar Moure Peña, James McArthur, Everjoy Grace Chiimba spoke and Alina Zalewski and Dominic Sett performed a song about their experiences at UNU-EHS and University of Bonn.
Professor Messner put it best: "We're proud of you. This is an important decade. Enjoy this decade, learn from it."
The programme, offered by the United Nations University Institute for Environment and Human Security (UNU-EHS) and the Geographical Institute of the University of Bonn, focuses on topics related to environmental hazards, including disaster risk management, vulnerability and risk assessment and ecosystem-based disaster risk reduction.
Applications for the Joint Master's Programme in Geography of Environmental Risks and Human Security open in the fall each year, and admissions for entrance into the programme for the 2019 fall semester will be open from 15 September to 15 December 2019.