2023•03•08 Bonn, Germany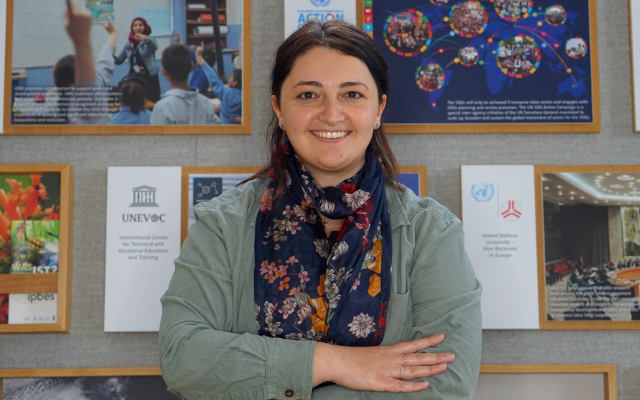 © UNU-EHS/Gonzales
Mariam is part of the Pacific Insurance and Climate Adaptation Programme (PICAP), which aims to improve the financial preparedness and resilience of Pacific communities against climate change and natural hazards through the development and implementation of innovative and inclusive climate risk insurance products. In implementing the project, they noticed that gender-based violence is rampant in Fiji's rural communities, and that their work could be part of the solution.
What can you tell us about gender-based violence in Fiji?
Gender-based violence is a huge problem in many countries, especially in less developed countries. In Fiji's rural areas for example, it is among the largest of societal issues. Studies from the Fiji Women's Crisis Centre showed that 72 per cent of all women that have been in intimate relationships have experienced some form of gender-based violence. In addition to physical violence, women are also often subjected to financial, sexual or emotional abuse. Through PICAP, we found that the financial empowerment of women is key in tackling this horrible issue. It will make women less dependent of men, which in turn makes them less vulnerable to gender-based violence.
We aim to reach as many women as possible within the framework of our work. Currently, 47 per cent of the policy holders of an insurance product that were developed within the PICAP project are women. However, researchers fear that in a traditional society like Fiji, increasing the financial capacity of women might create a backlash that will cause additional suffering for women. Men might feel threatened which could actually lead to an increase of gender-based violence behind closed doors. We want to ensure that with our activities we do not perpetuate gender-based violence at homes, a place where we cannot interfere.
How do you ensure these activities do not perpetuate gender-based violence?
Prior to our field mission to Fiji, we had consultations with women organizations that work locally to ensure inclusivity throughout the workshops and focus group discussions we were organizing.  During the mission to Fiji itself, we wanted to pay particular attention to gender-based violence, hence we organized a joint workshop with UN Women, UNCDF and various Fiji-based women's groups and associations to discuss the issue of gender-based violence resulting from women's access to finance and relevant considerations that could be factored while designing projects on climate disaster risk insurance for women.
Through this, we learned that organizing a workshop and awareness-raising sessions for women in rural areas could make men suspicious of our intentions. It taught us we had to be more transparent in what we were teaching and why, and that we had to invite both men and women, even if the workshop was aimed at women. Additionally, we discovered that religion played an important role in many rural communities, and that we needed to identify and approach the religious authorities. Their opinions are highly respected by both genders and their approval reduces overall reluctance regarding women participating in our activities.
Taking local customs and traditions into account provides us with access to the field, and in turn hopefully reduces gender-based violence as well. It enables women to take part in the trainings, which provided access to tools to become more financially resilient. However, cultural norms need to be considered throughout every stage of the climate insurance process. For example, we have to imagine what could happen in a scenario where the woman is the insurance holder, a disaster strikes, and for whatever reason there is no pay-out. This could actually endanger her, and that is the reality we have to take into account in working in these societies.
How has gender-based violence in Fiji impacted your field work and the project approach?
Within the project we do not plan activities to specifically combat gender-based violence, as our main objective is to increase financial resilience. However, ensuring equal access to our products and financial competency development activities, with recommendations of the local organizations embedded in our approach, does help reduce gender-based violence to a certain extent. For example, for insurance awareness-raising trainings we had already heard in advance that if women come, they would most likely not actively participate, but let the men talk instead. We seek women's insights to improve the insurance products to meet their needs. Because of the recommendations we received from our partners during the gender-based violence workshop, we know to invest in talking to female participants after the actual training. One-on-one exchanges allow them to open up, which enables us to collect their feedback.
In January, heavy rains occurred in Fiji, and in February the first insurance pay-out took place. Despite the unfortunate cause, going forward, it provides an opportunity for us to study if the financial empowerment of women leads to a decrease in gender-based violence in Fiji's rural communities. Our partners of UNCDF and a gender expert who work on the ground, closely cooperate with the beneficiaries and can provide us recommendations and further insights so we can use them to the advantage of women while we continue our work to respond to the growing need for climate disaster risk insurance solutions in the Pacific region.
——-
Additional information:
PICAP is jointly administered by the UN Capital Development Fund (UNCDF), the UN University Institute for Environment and Human Security (UNU-EHS) and the UN Development Programme (UNDP) and was created to respond to the growing need for disaster risk financing solutions against climate risks in the Pacific region. In this context, it pays special attention to those who are disproportionately affected by natural hazards, including women.