2019•03•04 Maastricht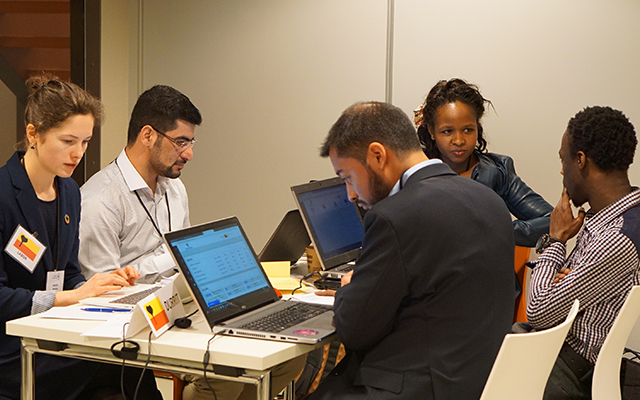 Five students from the International Joint Master's Programme in Geography of Environmental Risks and Human Security recently competed in the NASPAA-Batten Simulation Competition, where they were able to test their policymaking skills based on real-life data simulations related to migration.
Forced migration and refugee issues are an international problem that is rapidly becoming more urgent. More and more people are being displaced due to conflicts and/or disasters. The reasons are diverse; some are disaster-induced, related to floods, droughts, and other climate hazards, while others are conflict-induced, with the root causes of political conflicts, internal wars and other security issues.
National policies on migration, or any other policies for that effect, can drastically affect a country in many ways: its national budget and debt, gross domestic product (GDP), population and employment rates, safety, human rights index, etc.
However, what is even more complex about national policies is the fact that the policies of one country can also have a huge impact on its neighboring countries as well; more often than not, national policies can have a butterfly effect throughout the region, its impacts being felt far and wide.
Take, for instance, the case of one country deciding to accept only a small percentage of the refugees seeking shelter and instead providing financial and humanitarian aid to refugees that migrate to other neighboring countries. While this could help to maintain stable levels of employment rates and social integration, this may strain the country's economy and lead to budget deficits, or could lead to social backlash from its own citizens as well as from the international community.
These were some of the complex challenges the participants of the NASPAA-Batten Simulation Competition faced, which was recently held at UNU-MERIT, a sister institute of UNU-EHS. Eight other teams of students from public policy programmes of European universities gathered to test their policy skills using a simulation software, which allowed them to formulate decisions using data modeled from real countries.
Students had the opportunity to experience what it's really like to make policy decisions, and to see how their assigned country would be impacted, not only from their own decisions, but from the decisions of the neighbouring countries, which were assigned to other teams within the same "world".
Irfan Ullah, one of the UNU-EHS Master's Programme students, was able to connect the migration policy issues to the climate issues that he had been studying. "We know that in the future, there will be a lot of migration because of climate change. So this kind of simulation can give you an idea on how to manage these policy processes for migration in the future. I feel more confident, to have come up with new innovative ideas on how to manage the influx of migrants."
UNU-EHS Master's Programme, jointly offered in partnership with the Geographical Institute of the University of Bonn, is a two-year programme focusing on environmental risks, vulnerability and adaptation, urbanization, and climate change.
Learn more about our programme here.