2015•05•07 Bonn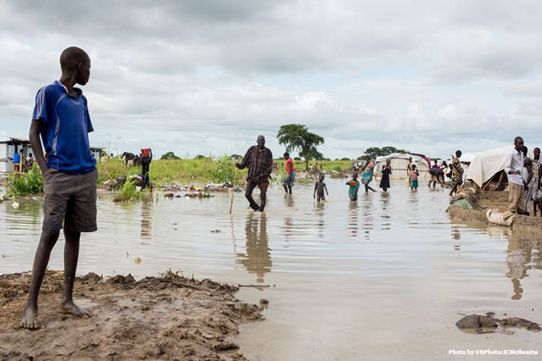 The West African Science Service Center on Climate Change and Adapted Land Use (WASCAL) project is a groundbreaking project that combines international large-scale research, education and capacity development to develop effective adaptation and mitigation measures to climate change in West Africa. Funded by the German Federal Ministry of Education and Research (BMBF), WASCAL was launched in 2012 and comprises a large number of partners in Germany and West Africa.
Communities in West Africa are frequently exposed to extreme weather events, such as intense rain that causes flooding or prolonged dry spells, which negatively affects agricultural activities. The intensity and frequency of these weather events is expected to be exacerbated by climate change in the future.
As part of the research focus, the project includes in-depth field research in Benin, Burkina Faso and Ghana as well as research collaborations between German and West African universities to generate extensive knowledge on climate change and adapted land use.
Educational elements of WASCAL include the development and implementation of a Graduate Research Programme that involves the creation of six Doctoral programmes and four Master's programmes in West Africa. German partner universities collaborate with the West African universities on curriculum development, invited lecturers and co-supervision of graduate students. West African students and faculty are also given the opportunity to visit and carry out research in German universities.
The project also boasts the creation of a Competence Center, which acts as a knowledge and data hub to strengthen local research capacity in West Africa. The center serves the research communities of all West African countries who are covered under the WASCAL project. Part of the center's mandate is to connect data collection networks, offer infrastructure and expertise for analyzing the impacts of climate change, conduct training and outreach activities, and provide a collaborative work environment for West African scientists.
UNU-EHS leads vulnerability and risk assessment
Within WASCAL UNU-EHS is leading the core research programme work package on risk assessment, a core competency of the institute. UNU-EHS research aims to identify, characterize and quantify the major climate change-related hazards, in this case floods and drought, affecting rural households in Burkina Faso, Ghana and Benin. Based on this research, risk and vulnerability profiles are developed for the three countries, which will inform decision-making on different coping and adaptation measures. To carry out this research programme, UNU-EHS has partnered up with the German Aerospace Centre, which contributes satellite earth observation data and scientific analysis to complement the in-depth research work.
A major research milestone which has already been achieved is the creation of a common database for floods and droughts in Burkina Faso, Ghana and Benin. With the support of the database it is possible to visualize hazardous events on national and regional maps and to visualize regional climate hot spots. The database can also generate analyses of hazard impacts on different sectors and groups of people, and it can provide information on relief provided and value the losses that occurred.
In addition to leading research on risk assessment, UNU-EHS actively supports two graduate research programmes: The Université de Lomé in Togo Graduate Research Programme "Climate Change and Human Security" where UNU-EHS supports curriculum development as well as teaching, and the Graduate Research Programme "Climate Change and Education" led by the University of the Gambia, where UNU-EHS supports the field of E-learning.
Capacity building: Master student Aryee Akwele Alberta from Ghana and mentor Dr. Julia Kloos in Bonn
Aryee is studying at the Université de Lomé in Togo in the Graduate Research Programme "Climate Change and Human Security", where she met researcher Dr. Julia Kloos of UNU-EHS, who is now supervising and mentoring her master's thesis.
For her thesis Aryee* is investigating the role indigenous knowledge plays in helping communities in West Africa anticipate, recover from and adapt to flooding. Her thesis will focus on two villages, Nambiri (In Northern Ghana) and Mango (Northern Togo), which share the same river (River Oti) and experience flooding. She will look at the effect of flooding on the villages and compare how they use indigenous knowledge to build resilience against floods.
"In West Africa indigenous knowledge has long played an important role in early warning and resilience building," said Dr. Kloos. "By observing animal behaviors, plants and the environment around them communities were able to predict weather patterns and likely floods. Increasingly, researchers have found that this kind of community-based knowledge can offer valuable insights which complement often insufficient scientific data."
In describing her inspiration for focusing on indigenous knowledge, Aryee said, "During one of our field trips to villages that suffered from river flooding in Togo, the people recounted how they could tell that the river was rising by croak of frogs etc. that got me thinking that they could do something to build their own resilience using their own local knowledge without waiting for governments or for the floods to come."
As part of the WASCAL project, students such as Aryee have full access to WASCAL resources, including the Competence Centre and a network of renowned international experts, such as Dr. Kloos and other UNU-EHS colleagues. With this support they are able to conduct research in their own regions and communities and the results of this research feed back into the WASCAL network, including WASCAL's core research programme.
Through its unique 360 degree approach that focuses on research, education and capacity development, WASCAL generates essential and timely research findings while inspiring the next generation of top West African climate scientists and policymakers.
Find out more about the WASCAL project.
* Since the publication of this article Aryee Akwele Alberta has finished her thesis and graduated.