2018•07•16 Bonn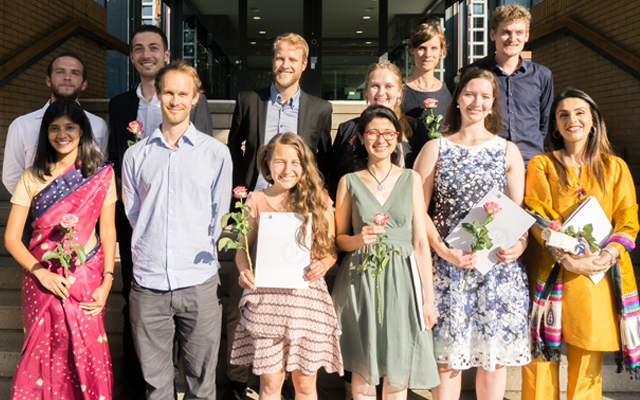 The second graduating class of the International Joint Master's Programme in Geography of Environmental Risks and Human Security just celebrated the completion of their studies.
The programme is offered by the United Nations University Institute for Environment and Human Security (UNU-EHS) in partnership with the Geographical Institute of the University of Bonn. The 12 graduates gathered with families and friends to receive their certificates and to celebrate the end of one chapter in their lives and the beginning of another.
Professor Jakob Rhyner, Director of UNU-EHS and Vice-Rector of United Nations University in Europe, welcomed and congratulated the graduates and their families, followed by Professor Julia Verne of the Geographical Institute at the University of Bonn and Dr. Matthias Garschagen of UNU-EHS.
"Do not let the world fail to surprise you and irritate you, as we have irritated you," Professor Verne playfully advised the graduates.
Several graduates spoke of their studies, in a variety of different ways: Shehrbano Sumbal and Lena Grossmann recounted their academic and personal journeys of the last two years, Joseph Cook read a self-written poem in true British fashion, and Liliana Narvaez Marulanda described her experiences and research into volcanoes.
The graduation ceremony was the culmination of three semesters of studies, including field trips and an eight-week-long internship, followed by a semester of research and writing the master thesis, all under the mentorship of advisers from both UNU-EHS and University of Bonn.
Applications for the Joint Master's Programme in Geography of Environmental Risks and Human Security open in the fall each year, and admissions for entrance into the programme for the 2019 fall semester will be announced on the UNU-EHS website, as well as through the UNU-EHS social channels.