2016•08•04 Bonn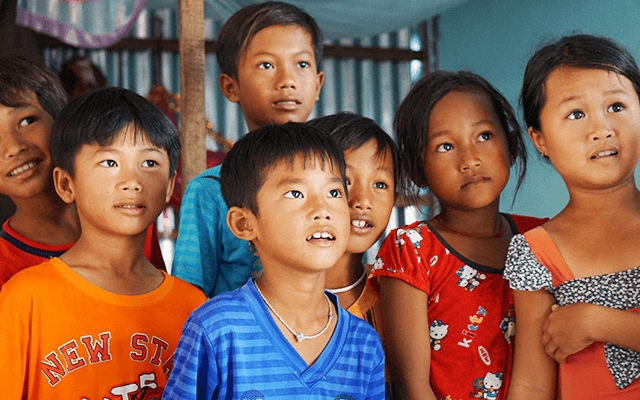 By Janine Kandel
In the far southern part of Viet Nam, away from the bustling city, people live a traditional life in small villages. The Mekong Delta is historically the largest rice producing region in Viet Nam.
Most farmers make only small profits on the rice sales and can sometimes not provide for their whole family based on their rice farming, but as rice harvesting requires little financial investment and the growing conditions in the delta are ideal, they generate a reliable income.
The agriculture of the region is however changing. The government has put in place new policies, such as allowing farmers in coastal areas to convert to shrimp farming or to alternate rice and shrimp productions.
Shrimp farming can generate much higher profit margins than rice farming, but it also requires high investments both when starting out with shrimp farming and then from season to season, as farmers have to prepare the ponds, buy food and medicine for the shrimp.
In addition to the policy and social changes, the environment is changing. The region is faced with variable rain patters that are different to those known to the farmers over decades as climatic phenomenon such as El Nino change weather patterns.
Mekong river flows are lower now because of less rainfall and changes in water management while more water in the delta is needed for drinking, irrigation of agriculture and industrial use which in return leads to more extraction of water from rivers and the groundwater. The sea level in Viet Nam's Mekong Delta is rising, leading to salinity intrusion into rivers, groundwater and agricultural areas with crops sensitive to salinity.
All of these changes are affecting peoples' livelihoods in Viet Nam's Mekong Delta and they are changing the communities' way of life.
Farmers need to continuously adapt to these changes as they can constitute opportunities and challenges at the same time. Listening to their stories provides important insight into the chances and risk the region faces.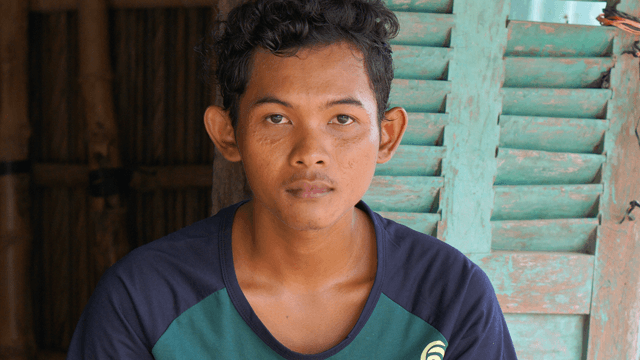 Photo by UNU-EHS/Janine Kandel
Mai, 25 years old
Mai is 25 years old. In 1991 he left school after grade 8 to move to Saigon and work in the textile industry as he could not find a job in his village. "You have to be strong, then you can work two shifts and make enough money. I work 12 hours a day for six days a week." Mai earns US $200 per month and apart from what he spends on food and rent, he sends all his money to his family. He had been injured during his work at the textile industry and returned to his family home to recover for six weeks when being interviewed. "When my father stops working, I will return and take over the rice farm. I want to get married here and live on the farm with my wife and children. At the moment I cannot stay here now because there is not enough income from the farm for the whole family."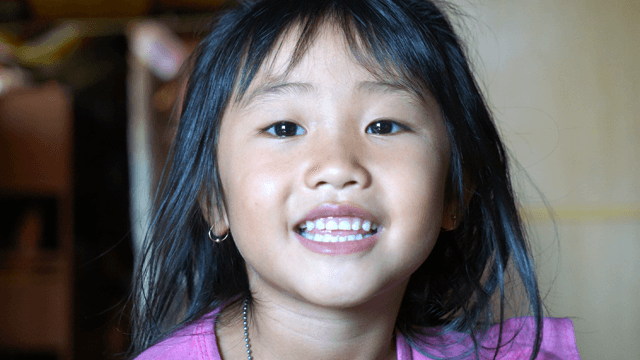 Photo by UNU-EHS/Janine Kandel
Thy, 5 years old
Thy starts school this year and is excited about it. So far she has spent her days playing with her younger brother and going to her grandma's house when her parents worked on the field. Thy loves her farm and village, but her mother does not want her to become a farmer when she is grown up. "Farming is hard work, I want her to go to school and study and then she can decide what she wants to do" Vo Thi Hang, Thy's mother. Sending Thy to school is a big investment for the family. "The school fees are not so high, but we have to buy the food they serve in school and the school uniforms, together this is a lot." Thy's mother was working in Saigon when she met her father and moved to the village with him. "I have to work harder here on the land, but I like the life more."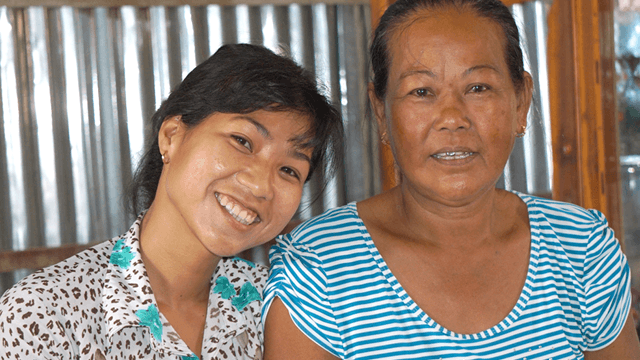 Photo by UNU-EHS/Janine Kandel
Nganh, 59 years old with her daughter
Nganh lives with her husband and 27 year old daughter who is disabled. The family does not own any land and she and her husband work as daily labor on the rice fields. They have four children. One of their sons works in the textile industry in the city and sends money home when they experience financial difficulties. Her son moved to the city when he was 13 years old. "He moved there alone and followed a friend," Nganh said, "he had nothing to do here, no work and no schooling." Her other son works as a daily labor on the rice fields, and her second daughter lives in the city with her family. Nganh is very worried about her future. Her husband has health problems, but they need his income to survive. "I cannot think about the time when I am older, even if I wanted to, I could not plan ahead, I have no options. I will keep working on the fields until the day I can no more. My husband always says he cannot work anymore, but I tell him to keep going. If it gets too bad we will take him to the hospital. This would take all of our saving, but I don't know what else to do."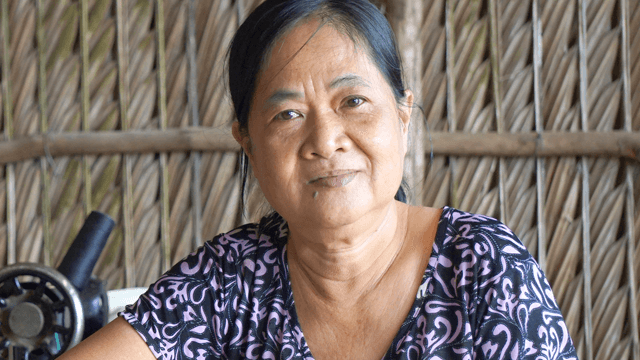 Photo by UNU-EHS/Janine Kandel
Thu, 61 years old
Thu is a female farmer in Hoa De village. The community is only accessible by foot and motorbike as the road is very narrow. 28 households in the village are farming rice and shrimp in rotation, Thu is one of them. She is the only single female farmer and takes great pride in her land. Thu farms one hectare of land by herself as she can only occasionally hire day labor and her brothers try to help out when they can, but she is satisfied. "I am happy with my life," she said. "I am part of the group of farmers and I feel equal to the man there." Thu does however say that she cannot think about getting older, "I will keep working until the last day, until I can no more, then we will see."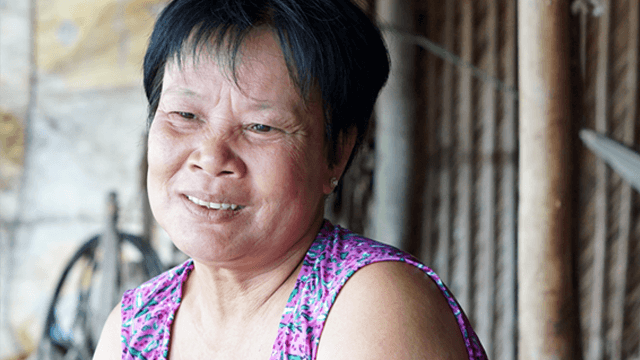 Photo by UNU-EHS/Janine Kandel
Nho, 56 years old
Nho is 56 years old. She was born in Tan Lap village and has lived there all her life. She works on the field right behind her house. "Around 15 years ago we were farming rice and shrimp, but now it is only shrimp. They put the salt water here and now we have to do shrimp. Shrimp is so unstable, if it doesn't work the loss is so big and the investment for food and antibiotics is also gone. Out of 4 harvesting seasons, I would only need one good one to be ok, but the shrimp so often gets a disease. I received some training from the farmers union on shrimp farming, but I cannot follow their reocmmendations because it is too much, I do not have enough money to buy all the food and medicine they advise for the shrimp. If farming rice and shrimp again were possible we would be ok, but it is only shrimp now."