2015•04•02 Indonesia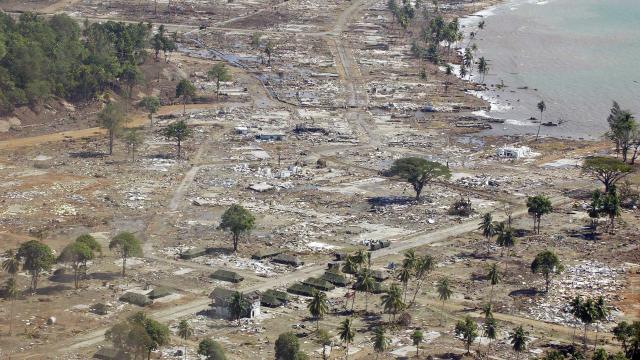 As part of the international workshop on "Climate and Societal Change in Coastal Areas in Indonesia and South East Asia" national and international experts met in Jakarta, Indonesia from 23-24 March to discuss how the region can best engage in disaster risk reduction (DRR) and climate change adaptation (CCA) in coastal areas.
South East Asia is made up of 11 countries with a population of 590 million, many of which are concentrated in mega cities along the coast, such as Jakarta. The region is experiencing an increased frequency and intensity of climate hazards, such as sea-level rise and tropical cyclones.
The workshop is the second one of its kind and is an essential part of the TWIN-SEA project, which established and maintains an expert network to analyze and promote Disaster Risk Reduction (DRR) and Climate Change Adaptation (CCA) strategies in coastal areas throughout Indonesia and Southeast Asia.
The discussions at the workshop highlighted the need for more serious engagement with integrated solutions in coastal adaptation linking engineering, social and ecological dimensions of adaptation as well as a tighter link between scientific knowledge production, practical business solutions, policy-making and policy implementation. This includes for example, the need to integrate resettlement programmes and hard protection infrastructure such as sea walls more thoroughly with measures to limit the livelihood impacts and to strengthen the long-term adaptive capacity of affected communities.. Potential policy responses and implementation options were debated by the workshops participants and helped to bridge the views between scientists and practitioners.
In one of the most important years for climate change when several global processes on DRR and CCA are taking place, the TWIN-SEA workshop served three main objectives:
A discussion on essential scientific findings achieved within the TWIN-SEA project to date, including, for example, the results of a survey examining policy decisions amongst Indonesian authorities for or against ecosystems-based DRR solutions such as mangroves, or measurement results on the capacity of green coastal protection infrastructure to attenuate wave energy;
A further strengthening of the TWIN-SEA expert network, which currently includes around 80 international experts on DRR and CCA;
The definition of the future work plan of TWIN-SEA, including, for instance, field work to analyze adaptation decisions of individual firms exposed to flooding as well as community resilience appraisals in four coastal case studies across Java and Sumatra.
In addition to UNU-EHS senior scientists Dr. Garschagen, Dr. Renaud and Dr. Szarzynski, the following key experts on DRR and CCA and members of the TWIN-SEA network presented in the recent workshop:
Prof. Mark Pelling from King's College London
Prof. Javier Revilla Diez from the University of Cologne
Prof. Joern Birkmann from the University of Stuttgart
The programme was further complemented by invited presentations from network experts from Indonesian governmental agencies (e.g. from the Ministry of Environment or the National Agency for Disaster Management), civil society organizations (e.g. USAID or Mercy Corps Indonesia), UN organizations and private business actors active in the field of coastal protection (e.g. NAUE).
About the TWIN-SEA project
The expert network established by the TWIN-SEA project deals with the systematization of climate change-related hazards (e.g. sea-level rise), vulnerabilities and risks in coastal areas, particularly in urban and peri-urban spaces. It focuses on the analysis and evaluation of measures to strengthen the resilience of coastal communities and to tries to identify best practice examples and low regret measures for risk reduction and climate change adaptation. TWIN-SEA seeks to address knowledge gaps in the understanding of risk drivers as well as application and implementation obstacles of low regret adaptation measures.
If you want to get engaged with the TWIN-SEA network, please send an e-mail to its coordinator at UNU-EHS, Dr. Matthias Garschagen: garschagen@ehs.unu.edu