2015•11•19 Bonn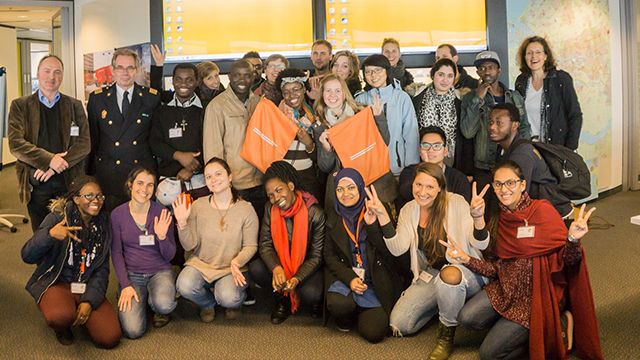 In an emergency, we automatically reach to call the experts but do we know what goes on behind the scenes? How do cities cope with disasters and emergencies?
Recently, the Regional Emergency Dispatch Centre at the World Port Centre, Rotterdam, the Netherlands, allowed our second year Master's students, from our International Joint MSc Programme 'Geography of Environmental Risks and Human Security', a behind the scenes glimpse into emergency response and disaster preparedness. The UNU-EHS Master's programme undertakes two or three fieldtrips each semester to provide students with practical knowledge on topics they cover in their studies. "It was an opportunity to confront the students with a real-life organization that deals with disaster management," says Jörg Szarzynski, Education Programme Director, United Nations University – Institute of Environment and Human Security.
Based in Rotterdam, the Netherlands, the Regional Emergency Dispatch Center and the Regional Crisis Center coordinates disaster and emergency response and management for the Rotterdam-Rijnmond Safety Region (a safety region is the area in which city boards and operational services cooperate).
The Safety Region is a densely populated area (over 1.2 million people), flood-prone, home to the largest port in Europe and contains 50 per cent of the Netherlands' chemical industry. If disaster were to strike, the population would be immediately affected. Therefore, the Centre takes a proactive approach, focusing not only on response and recovery, but also prevention and preparedness. As Sjaak Seen, Operational Leader of the Multidisciplinary Crisis team says, "Don't work harder, react smarter!"
The Centre and its partners in the Safety Region (the emergency services and city boards) have developed an integrated and multidisciplinary approach to emergency response and preparedness. The region has 80 disaster contingency plans and is prepared for 29 worst case scenarios. Based on the Regional Community Safety policy for the community every house gets a home safety check and a free smoke detector. In a medical emergency, patients receive immediate treatment at the scene. People are informed of disasters and appropriate responses, through text alerts or information is pushed to their mobile phones. They also receive information via Dynamic Route Information Panels (DRIPS), which are information screens in public locations such as roads or trains stations. The visiting Masters' students were impressed with the organization's proactive approach. It's "very innovative," says Lena Huhn, 2nd year MSc Geography of Environmental Risks and Human Security Student.
Capacity building is also a key part of the success of the system. The Master's students visited the Community Preparedness Training Centre at the Schiedam fire station to gain insight into this. At the Centre, Community Safety Officer, Jos de Graaf spoke about the strong focus on education for communities and comprehensive training for staff and volunteers. In 2015, 3500 primary school children visited this center with the aim of learning more about safety and resilience. The motto of the Safety Region is: If we want to improve safety we have to start educating the children. Community Safety Advisor, Sheila Kortstam provided an insight into the hands-on approach to educating children about fire safety. Some of the Masters' students tested their fire safety knowledge while putting out simulated fires, while others experienced how difficult it is to put on a fire suit in 30 seconds.
Overall, the region has developed a sophisticated effective system for emergency response, preparedness and prevention, but there are always new challenges, including that of sea-level rise. Plans are now underway to further integrate and improve emergency response on a national level. It is important "to start small, but see the bigger picture," says Seen.
Learn more about our International Joint MSc Programme "Geography of Environmental Risks and Human Security"