2021•07•19 Bonn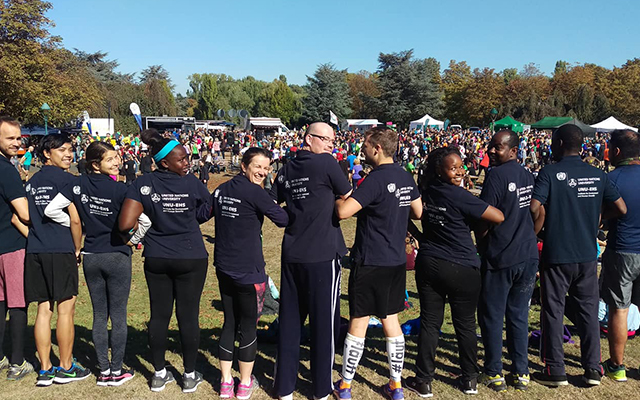 The Joint Master's of Geography of Environment and Human Security gathered for the second time in recent weeks to celebrate its students. This time the cause for celebration was the graduation of 25 students from the programme. While virtual, it was the first graduation since 2019, and the event struck a tone that felt just as if it was in person.
The ceremony opened with an address from UNU-EHS Director and UNU Vice-Rector in Europe Dr. Shen Xiaomeng, whose remarks set the tone. "You are very special people who want to put your talents at the service of humanity. As long as you follow your passion and curiosity, doors will open for you," remarked Dr. Shen, who shared a small similarity in that her academic career brought her to UNU-EHS as a PhD researcher.
Due to COVID-19, the ceremony celebrated the graduation of students from 4 cohorts of the programme, yet it was hard to miss the feeling that it was really the end of all of their "GeoRisk" journeys. Following Dr. Shen's address and before the graduate speeches, a video commemorating their time as students was played. As it took a look back at their journey, it was clear from the many events and excursions that a special bond exists within the programme, even from cohort to cohort.

Speaking on behalf of the graduates were Esther Makabe (2017-2019), Jana Siebeneck (2018-2020), and Joshua Amponsem (2018-2020). Siebeneck touched on what united them and brought them together, "I think it is not a coincidence that we are studying risk. Probably, everyone who is keen to work on risk actually likes to take risk – at least a little bit. It can mean not taking the usual path that is expected of you."
Makabe spoke of the journey and how it shaped them, "All of the experiences have made this journey worth it. We learned to be brave and tough."
In his address, Amponsem offered inspiration for the future. "We are graduates of a programme that is teaching students to contribute to solving big problems, especially on climate change. We now have the opportunity to help make big changes. Looking across this screen, I know we can."
As joyous and inspirational as the occasion was, it was just as relieving for the graduates. Getting to this point was no cakewalk. As incoming students, they face 3 semesters of lectures, a 4th to write their master's thesis and in between a mandatory internship. Furthermore, the programme is dense in technical topics. From both the University of Bonn – Department of Geography (GIUB) and UNU-EHS they learn advanced concepts of risk, human security and human and physical geography. Every part is a particular challenge, however, it all comes together at the end.
"While the thesis is certainly the biggest task during a master programme, it is also the moment when the different pieces come together, the art and science of geography, when you develop a topic that truly reflects the character and overall aim of our programme," said former GIUB Professor Julia Verne, who used to be the head of the programme and joint academic board, and is now at the University of Mainz.
By getting to this point, the graduates surely displayed the strength and the ability to overcome the challenges. Although some are already in the early stages of their careers, others are getting ready for the rigors of professional life ahead.
Amponsem, who already runs the NGO Green Africa Youth Organization in his home country of Ghana, will head off to New York. He will join global climate action efforts in the Office of the United Nations Secretary General's Envoy on Youth as a Climate Programme Specialist. Many of the newly minted alumni will take up similar work in sectors such as academia, the humanitarian field, disaster response and disaster risk management.
Though ready to tackle things ahead, Dr. Shen also encouraged them to be patient in her opening address. "I congratulate you all on the paths you have put yourselves on. But remember to take time to enjoy your successes. You don't have to hurry," she said.
Those words resonated at the end of the ceremony as the feeling of relief and celebration finally took over. As it came to a close, the graduates and attendees, many of whom were staff, family and friends, all unmuted their microphones and gave a rousing round of applause.
"It was fantastic to see my lecturers and peers across the screen and share this moment in our successful journeys," said Amponsem.
The graduates now bring the total number of alumni to 117, and though their journey ends, they will remain close to the programme through the UNU-EHS Alumni Network. While some of them already are working or have jobs lined up, the network will support them in their job hunts and professional development. With webinars, events and a dedicated LinkedIn alumni page, it will also keep them connected to each other and to all the other things happening at UNU-EHS. In mid-June, the network held its first ever Alumni Reunion.
"I am already missing my classmates – they are the best I could ever wish for. I know we will cross paths and I look forward to furthering the debate on the theories and concepts of climate risk as we pursue our professional careers," said Amponsem.
The Joint Master's Programme in Geography of Environmental Risks and Human Security is jointly offered by UNU-EHS and the University of Bonn, Department of Geography. To learn more about our alumni and alumni network check out our LinkedIn Alumni page.