2023•02•23 Bonn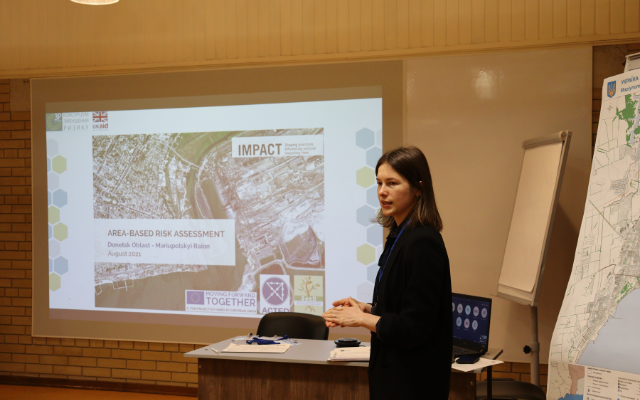 © IMPACT Initiatives
It was a little over a year ago that Nataliia Makaruk was last with her counterparts from the city of Mariupol, Ukraine. The city was on a quest to become a green city and was piloting a United Nations Disaster Risk Reduction initiative in the country. Makaruk's employer, IMPACT Initiatives, was holding a workshop with the city government to help develop their resilience plan.
Makaruk, an alumna of the Master's programme in Geography of Environmental Risks and Human Security, had recently graduated and was back in her home country working as a Risk Assessment Officer. "I went from learning to carry out risk assessments in the master's to carrying them out in Mariupol. I felt lucky," she said.
At the workshop in nearby Sviatohirsk, Makaruk and colleagues presented the results of the multi-hazard risk assessment they conducted. The city was to take their recommendations and develop the resilience plan. After, she returned to Kyiv and no more than two weeks later, the invasion began. Mariupol was thrust in the middle of the conflict. Makaruk's work there was as far as she knew over. For her, the people there and throughout the country, survival was priority.
The work of her and her colleagues turned toward contributing to the ongoing humanitarian crises and its response. Instead of working on risks to natural hazards, it turned toward assessing the risks and impacts associated with anthropogenic hazards, like hazardous material leakages at industrial or critical infrastructure sites.
"We were shocked and numb for the first few days. But then we shifted to mapping where events were happening and the impact potential on the environment and people," recalled Makaruk. Some of their initial work was doing agriculture risks analysis to understand the conflict's impact on production in the country.
Outside of her work, like many, she contributed to the humanitarian situation in any way she could. She volunteered in her community by packaging food and water and preparing hygiene kits. She even helped translate between NGOs and those seeking refuge outside the country.
With the situation becoming more unsafe by the day and her sights already set on continuing her career elsewhere, Makaruk left Ukraine with her sister. She landed a new position as a Climate and Disasters Assessment officer with IMPACT Initiatives in Geneva where she is today.
Her work is still very much focused on Ukraine. She provides technical support for teams on the ground in the country carrying out risk assessments and is responsible for area-based assessments focused on the needs of refugees in neighbouring countries. Her workload is quite heavy. Despite that she carries on as this is all just a part of the job.
"Actually, one of the toughest parts is having to shift from context to context. Some days you go from projects in Ukraine to Haiti to Sri Lanka. It can be a challenge to switch from one to the other," she said with a grin.
According to her, that is also a part of the commitment of working in this field. She understands that she is working as a part of something bigger. Among her inspirations to get into this field was a United Nations World Humanitarian Day performance by Beyoncé. "That performance gave me a mission. I thought it was powerful and it made me think about what kind of an impact I could make."
And it is the impact that continues to motivate her. "It is encouraging to see when the UN or a government agency implements your research and your work in their actions for better preparedness and response. It is a contribution to making the world safer."