2015•08•17 Bonn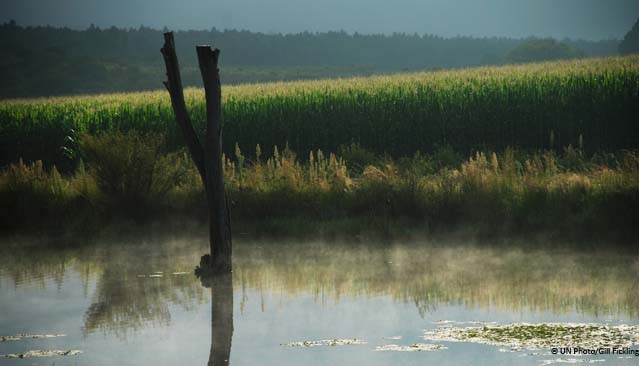 As UN member states move towards finalizing the sustainable development goals (SDGs) and in the lead up to World Water Week in Stockholm, the city of Bonn is hosting an international conference focusing on the SDG dedicated to water. The goal sets out to ensure the availability and sustainable management of water and sanitation for all.
High quality water is crucial for the preservation of healthy ecosystems as well as for socio-economic and human development. Water has and will continue to play an important role in adapting to the challenges we face in the light of global change.
This conference will attempt to address and explore challenges related to the implementation of the SDG water goal, such as how targets could be monitored, how achievements can be measured and assessed and how science, policy and practice can work together to implement the SDGs. The conference will bring together available information, identify knowledge and action gaps, share lessons on viable instruments and approaches, facilitate networks, and create a platform for moving toward action on the SDGs.
Researchers at United Nations University will be contributing their expertise to the conference, with representatives from UNU-INWEH, UNU-FLORES and UNU-EHS taking part in roundtable and panel discussions. UNU will be active in diverse topics ranging from strengthening the science, policy and practice link to water quality assessment and governing the nexus of water soil and waste. Please find an overview below:
August 17:
13:00 – 14:30, Jakob Rhyer, UNU Vice-Rector in Europe and Director of the UNU-Institute for Environment and Human Security (UNU-EHS), will be a panelist at: Dialogue Session: Practice-Science-Policy Dialogue
13:00 – 14:30, Nike Sommerwerk, Program Officer at UNU-EHS, will be a participant at: Roundtable: Water Quality Assessment
17:30 – 18:30, Zafar Adeel, Director of UNU-Institute of Water, Environment and Health (UNU-INWEH), will convene the panel: Financing of Water SDGs
August 18:
11:00 – 12:30, Reza Ardakanian, Director of United Nations University Institute for the Integrated Management of Material Fluxes and of Resources (UNU-FLORES) will convene the panel: Governing the Nexus of Water, Soil and Waste
13:30 – 14:30, Fabrice Renaud, Head of Section at UNU-EHS, will be a participant at: Synthesis Plenary: Together for a Sustainable Water Future
For the full conference programme, please click here.
The conference will run from the 17-18 of August at the Maritim Hotel in Bonn, Germany. The conference is organized by the Global Water System Project (GWSP) with the financial support of the German Federal Ministry of Education and Research (BMBF)