2015•05•26 Copenhagen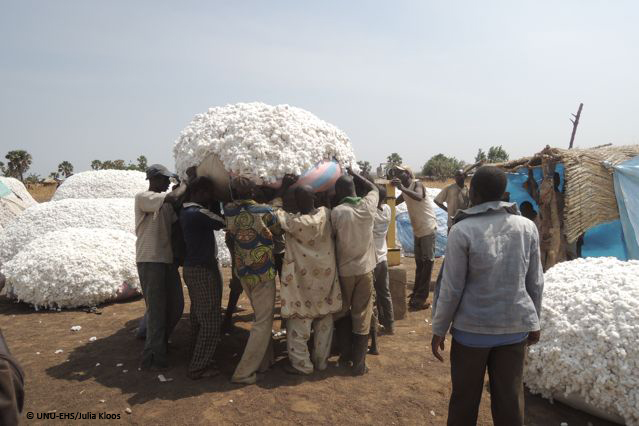 There is a growing realization that healthy ecosystems can play an important role in helping vulnerable communities adapt to climate change. Improving the resilience of ecosystems can also improve the resilience of vulnerable communities that depend on them. At the European Climate Change Adaptation Conference held recently in Copenhagen, Dr. Julia Kloos explored the role of ecosystem-based solutions in adaptation and disaster risk reduction in the Dassari watershed in northwest Benin. She also highlighted existing barriers and limits to their wider implementation.
People living in the Dassari watershed in northwest Benin are primarily subsistence farmers that depend on rainfed agriculture to feed and provide for their families. However, the region is affected by increasingly irregular rainfall patterns and seasonal variability that causes flooding. At the same time, a shorter and disrupted rainy season leads to droughts and dry spells. Balancing between the two extremes is often a bewildering challenge to impoverished households. With limited financial resources available for technological solutions, ecosystem-based measures can provide low-cost, often no-regrets solutions while offering additional social or economic benefits. For example, sustainable land management techniques in drylands can lead to benefits such as improved food security, which allows people to invest in better living conditions and education, while reducing the need for migration (Reij et al. 2009; Munang et al. 2014).
An example of an ecosystem-based measure is the production of organic cotton, which was found to reduce the most frequent climate risks that households face in the region, compared to conventional cotton cultivation. Farmers who were interviewed reported that organic cotton was less susceptible to droughts than conventional cotton. The production of organic cotton improved food diversity and security and the capacity to invest in education, animals, and other livelihood improvements. As the majority of organic cotton producers are women, women were also found to be empowered as they had more influence on household-related expenses and investment decisions because they had their own financial means. However, there is also a range of barriers that currently hinder the wider implementation of this strategy. Consolidated action is important to overcome these barriers, which include locality, access to water and organic matter, transport, labour, the degree of organisation among farmers, and management and marketing issues.
By leveraging the existing nature and environment around them, many of these households are finding a way to deal better with the weather extremes and build resilience. Ecosystem-based measures could be one important piece of the solution to adapt sustainably to climate change and reduce climatic risks.
The research was conducted within the scope of the West African Science Service Center on Climate Change and Adapted Land Use (WASCAL) project, which combines international large-scale research, education and capacity development to develop effective adaptation and mitigation measures to climate change in West Africa. Funded by the German Federal Ministry of Education and Research (BMBF), WASCAL was launched in 2012 and comprises a large number of partners in Germany and West Africa.
Literature: Reij et al. 2009 Agroenvironmental transformation in the Sahel. IFPRI Discussion paper 00914; Munang et al. 2014