2015•07•06 Bonn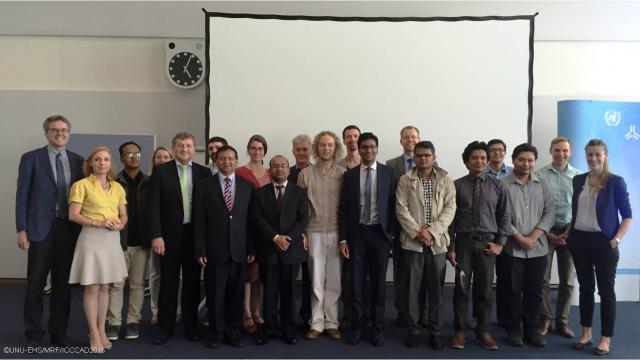 On 26 June a seminar was held at the UN Campus in Bonn (Germany) that brought together researchers and practitioners from Germany and Bangladesh to share ideas about and experiences with the concepts of Livelihood Resilience and Research to Action. The day started with introductions by Dr. Saleemul Huq (ICCCAD), Thomas Loster (MRF) Prof. Dr. Jakob Rhyner and Dr. Koko Warner (UNU-EHS), followed by a presentation about the Gibika Research to Action project by Senior Researcher Kees van der Geest and Project Manager Sonja Ayeb-Karlsson.
What is Gibika?
The Gibika project is a partnership between the United Nations University Institute for Environment and Human Security (UNU-EHS), International Centre for Climate Change and Development (ICCCAD), and Munich Re-Foundation (MRF). It aims to advance the scientific understanding of livelihood resilience in Bangladesh, and to apply conclusions towards community-led solutions that improve the living conditions of vulnerable people. Gibika strives to not only protect lives, but also to protect livelihoods. The insights and findings generated through Gibika intend to influence national and international policy, related to livelihood resilience. Seven research sites (Dalbanga South, Mazer Char, Gabtola, Singpur, Babupur, Jamalpur, and Bhola Slum) were selected in 2013 that represent the wide range of livelihood systems experiencing extreme environmental adversity in the country. Cyclone related threats, riverbank erosion on the flood plains, and drought related threats in the dry lands were all identified as environmental stressors that impact the livelihoods of people living in the sites and throughout Bangladesh.
The presentation included a photo film based on audio recorded during a 'Livelihood History' interview in one of the study sites. Interviews were conducted with residents that are living on the frontline of natural disasters such as cyclones. The photo film gave the audience an empathetic view of the hard choices residents have to make when choosing to either leave their homes and source of income OR evacuate to the cyclone shelter.
Investigating the concept of Resilience
Following the Gibika presentation, the group was led in an interactive session around the concept of resilience that made use of the so-called "Snap Game" which has been developed by Pablo Suarez of the Red Cross/Red Crescent Climate Centre. The snap game was the prelude to an in-depth discussion about the implications of the conceptual shift from vulnerability to resilience for action on the ground. Some notable takeaways from the discussion:
Resilience and vulnerability co-exist.
There may be undesirable implications of labeling communities as 'resilient', as this may lead to a perception that they no longer need support.
A focus on resilience can lead to losing sight of the root causes of vulnerability, such as inequality, and this should be avoided.
Knowledge and experience sharing of the research to action approach
After the lunch break, the afternoon program consisted of presentations ranging from research projects of several local and regional partners, addressing climate change impacts, environmental stress and active key institutes in Bangladesh. The following is a list of projects in order of presentation:
ITT's Activity in Bangladesh: Institute for Technology and Resources Management in the Tropic and Subtropics.
Proposed project: Web-based Agricultural water management information's systems (AWMIS)
Presented by: A.B.M Firoz, ITT
Presentation PDF
For more information visit: http://www.tt.fh-koeln.de
DELTAS Project: Development of a "Global Delta Vulnerability Index"
Presented by: Jakob Rhyner, Director UNU-EHS and Vice Rector UNU
Prepared by: Zita Sebesvari and Fabrice Renaud, UNU-EHS
Presentation PDF
For more information visit: The Deltas Project 
The program ended with a closing address by the Head of Chancery and Counselor to the Bangladeshi Embassy in Germany from Bangladesh Mr. Mohammed Najmul Huda. The collaboration of Master's students from Bangladesh and a wide representation from UNU as well as outside organizations fostered a cross-disciplinary and cross-cultural dialogue about current efforts and future plans for enhancing livelihood resilience. The intention is to turn this workshop into an annual event to further strengthen German-Bangladesh collaborations.
What is Next?
Hosted annually, the Resilience Academy is meant to provide a platform for connecting communities of expertise (early phase practitioners, academics, and policy analysts), examining livelihood resilience in the face of local and regional environmental threats. The 2015 Resilience Academy will take place near Dhaka, Bangladesh from 6-12 September 2015. The theme for this year's academy is: Enhancing resilience to minimize loss and damage – providing knowledge for the UNFCCC.