2022•09•28 Bonn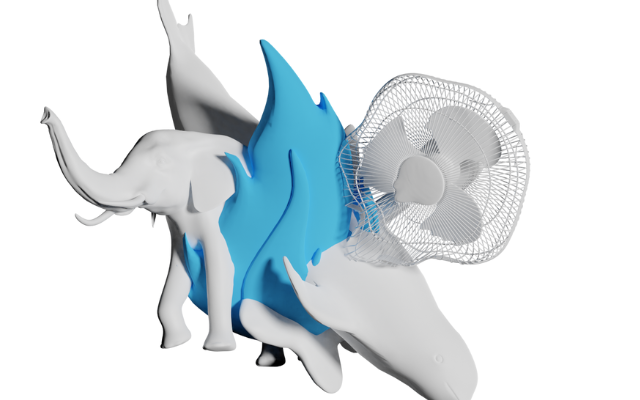 ©UNU-EHS
What does the elephant migration in southern China have to do with the famine in Madagascar? How are the forest fires in Europe connected with the floods in Lagos? According to Zita Sebesvari, a climate researcher based in Bonn, due to climate change, catastrophes can trigger another – and that screws need to be turned to alleviate them.
Sebesvari is a lead author of the annual "Interconnected Disaster Risks" report of the United Nations University Institute for Environment and Human Security (UNU-EHS) in Bonn. The report is being picked up by media around the world, not least of all because of its unusual design by the London-based agency TEMPLO. Together with Sebesvari, TEMPLO's Creative Director Pali Palavathanan will explain how the challenges of climate change can be presented in a way that makes solutions visible at the Bundeskunsthalle's STUDIO BONN event, "Global nerve system: how world wide disasters are interconnected".
Sebesvari and Palavathanan share their global view with the artist Grace Ndiritu, who incorporates diverse Indigenous economies and knowledge systems into her work. "Museums are dying", argues Ndiritu, who seeks to heal the relationship with the planet through shamanistic performances. All three will comprise the event panelists.
A renowned environmental researcher, Sebesvari is the Deputy Director of UNU-EHS in Bonn and one of the three lead authors of the "Interconnected Disaster Risks" report.
Pali Palavathanan co-founded TEMPLO together with Anoushka Rodda in 2013. The London-based branding and digital agency is committed to the motto "Creativity for Change". In addition to the United Nations, TEMPLO's clients include Greenpeace, Migrant Help, and Amnesty International.
The work of Grace Ndiritu is represented in numerous collections. Her installation, "The Twin Tapestries", is on view in the exhibition "RYOYI! Care, Repair, Heal" at the Gropius Bau in Berlin through 15 January 2023. Her second book, "Being Together: A Manual for Living", was published in September 2022.
The talk will take place on Thursday, 20 October at 7:00 PM and will be in English. A video with subtitles will be available at a later date at studiobonn.io. To learn more about the event click here.