2014•12•18 Bonn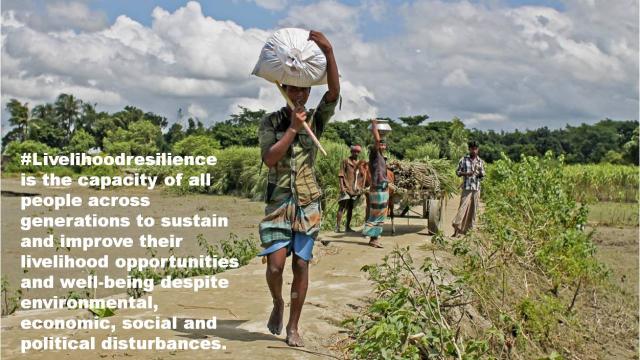 The United Nations University Institute for Environment and Human Security (UNU-EHS) is pleased to announce that the academic paper "Livelihood resilience in the face of climate change" developed as part of the 2013-2014 Resilience Academy is published by Nature Climate Change today.
The Resilience Academy is hosted by the International Center for Climate Change and Development (ICCCAD) and UNU-EHS with the support of the Munich Re Foundation and brings together young researchers and senior experts to explore livelihood resilience, a topic that is receiving increased interest from the scientific community and policy makers. Changing weather patterns and extreme weather events mean that people will face difficulties maintaining stable and robust livelihoods. From losing income activities to migrating from their homelands, the topic of livelihood resilience poses questions to decision makers and affected populations alike.
"Climate change will inevitably make certain livelihoods impossible, but the idea of livelihood resilience is that people can have the supports necessary to earn a living despite the most severe climate change impacts," says Dr. David Wrathall of UNU-EHS who is one of the authors of the Nature Climate Change article.
The Resilience Academy convened a group of 25 international researchers and practitioners twice, once in 2013 and again in 2014, to examine the main contributors and impediments to climate resilience; explore available strategies for people facing overwhelming extremes; and propose necessary elements of resilience to the climate stressors people will face today and in the future.
Prof. Jakob Rhyner, the director of UNU-EHS welcomed the publishing of the findings. "As a UN think tank we play an important role in convening top experts on issues affecting sustainable development. The resilience concept deserves strong attention as it addresses the limits of adaption to climate change and how it affects the most vulnerable communities."
Read the article published in Nature Climate Change
In addition to the Nature Climate Change article, UNU-EHS will publish a series of working papers written by Resilience Academy participants in support of the core argument of the paper, which can be found in the related files tab.
The next two academies will be held near Dhaka (6-12 September 2015) and Munich (4-10 September 2016). The theme will be: Enhancing Resilience to Minimize Loss and Damage –  Providing Knowledge for the UNFCCC.