2015•06•01 Algeria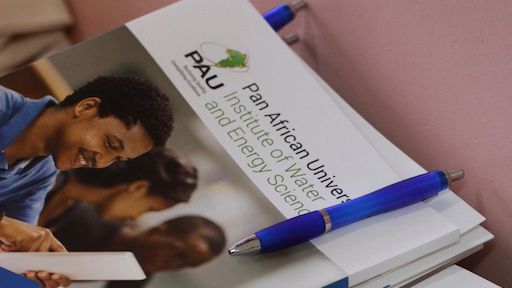 The Pan African University Institute of Water and Energy Sciences (PAUWES) held its first International Symposium entitled "State of the Art – Challenges and Trends in Energy and Water in Africa" from 6 to 8 May 2015. The event, which took place in Tlemcen (Algeria), was attended by academics and researchers from across Africa and Europe, African and international experts in the area of energy and water, representative of the African Union, international organizations and institution of scientific and development cooperation with Africa.
The Symposium was the first event to be held by PAUWES as part of its objective of establishing a community of practice in the sector of water and energy sciences. Subjects of discussion at the Symposium included the challenges and opportunities of the water-energy nexus in Africa; the African Union's Agenda 2063 on Water and Energy as well as the contribution of universities and entrepreneurship to Agenda 2063.
Professor Abdellatif Zerga, Director of PAUWES Institute, said, "This Symposium demonstrates our intention to create a platform for the exchange of knowledge and experience that brings together the expertise of the academic community with that of specialists in other fields – business, civil society and government – in order to build bridges between these communities both within Africa and internationally."
The Symposium was organised by PAUWES and the United Nations University Institute for Environment and Human Security (UNU-EHS) in cooperation with the University of Tlemcen. The symposium is part of a larger project entitled "Higher Education cooperation with PAUWES" funded by the German Federal Ministry for Economic Cooperation and Development through GIZ and the German Academic Exchange Service (DAAD). The project is conducted by a consortium of German Higher Education Institutions, represented by ZEF (Center for Development Research) at the University of Bonn in Germany, the United Nations University Institute for Environment and Human Security (UNU-EHS), and ITT (Institute for Technology and Resources Management in the Tropics and Subtropics) at the University of Köln. Representatives of these institutions spoke at the Symposium to share expertise and best practice.
Dr Erick Gankam Tambo, Associate Academic Officer at United Nations University (UNU-EHS), commented, "A strong higher education sector is critical for Africa's development in order to build skills in the next generation of engineers and policymakers. The United Nations University is working closely with PAUWES and this Symposium provides an excellent forum for us to exchange knowledge and experience in the highly strategic field of water and energy sciences."
PAUWES currently has 26 students from 12 African countries studying as part of the first cohort on its MScs in Water and in Energy. These world-class graduate programmes, which offer dual tracks in engineering or policy, provide students with a broad foundation in theory and practical skills which equip them to continue to PhD level or pursue a career in water, energy or climate change solutions.
About the Pan African University Institute of Water and Energy Sciences
The Pan African University Institute of Water and Energy Sciences (including Climate Change) (PAUWES) is hosted by the University of Tlemcen, Algeria. The institute was founded by the African Union Commission as part of PAU. In partnership with the German government, the Institute offers graduate students access to leading academic research and the latest theoretical and hands-on training in areas vital to the future of
African development – water, energy and the challenge of climate change. Supported by the integrated PAU network, which include PAU institutes in Kenya, Nigeria, Cameroon and Southern Africa, PAUWES attracts renowned international faculty and highly qualified students from across the African continent.
For further information, please go to: http://pauwes.univ-tlemcen.dz/ or follow PAUWES on Twitter: @PAUWES