2019•04•11 Berlin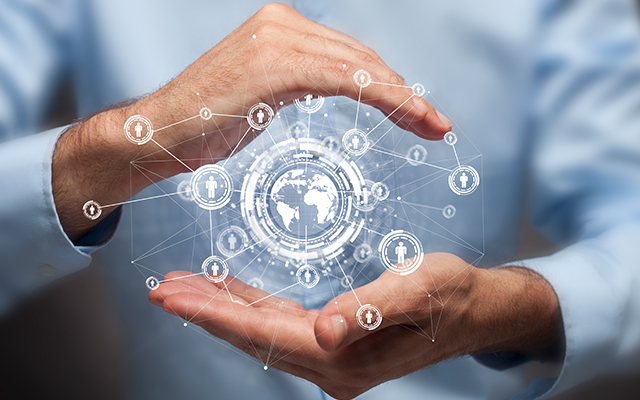 Berlin, 11 April 2019  – The world is facing an unparalleled number of crises, including climate change, food shortage, a record number of people being displaced, political instability and increasing inequalities. At the same time, technological change, often described as digitalization, is accelerating and already influencing human lives significantly. Yet, little to no thought has been given on how digitalization can help humanity solve the biggest challenges of its time.
A new summary report "Our Common Digital Future"by the German Advisory Council on Global Change (WBGU), which is co-chaired by UNU-EHS Director Prof. Dirk Messner, seeks to address this gap, and aims to start a discussion on how a digital sustainability society can be achieved. Based on the assumption that digitalization will create new social and economic realities, Prof. Messner calls on the international policy community to develop a global agenda on digitalization and link it systematically with sustainability transformation.
"The 17 Sustainable Development Goals (SDGs), to which the global community has committed in 2015, barely mention digitalization. Yet, our research clearly found that digitalization will happen and it will transform all parts of society and profoundly shape all 17 SDGs. We urgently need to govern this process politically to ensure that digitalization will make us more, and not less, sustainable" said Prof. Messner, Co-chair of WBGU and Director of UNU-EHS.
When actively shaped, the report finds, digitalization offers unparallel opportunities to improve human existence. It sees enormous potential in new technologies which can be used to give people access to basic services such as healthcare, education, energy and environmental information and to prevent environmental degradation.
Examples cited in the report include promoting the energy-system transformation using intelligent energy networks, reducing vehicular traffic in cities by means of shared mobility, and using digital technologies to promote a circular economy. Digitalization can transform the agricultural sector as artificial intelligence can identify the most efficient and least resource intensive way to grow crops. Virtual spaces can enable communication, networking and joint learning between people around the globe, thus cutting down on emission-intensive air travel and creating the basis for a global culture of cooperation.
The research conducted by Prof. Messner and his colleagues does however also clearly identify the risks which can accompany digitalization. Without creative political action, the report finds, digital change will further accelerate resource and energy consumption, and exacerbate damage to the environment and the climate.
When ethical and normative guidelines are not in place, digitalization can also become a serious threat to democracy and human rights, especially when digital tools meet authoritarian governments. Big Data and artificial intelligence are then used to monitor people on an unprecedented scale, and the data gathered is used to suppress human rights.  This is already evident in China, where new technologies are being used to monitor citizens ever more closely. But these trends are not only found in China. Around the globe, Big Data is being used by powerful private and state actors to influence human behaviour.
"It is therefore an urgent political task to create the conditions needed to place digitalization at the service of sustainable development" remarked Messner. "In addition, precautions must already be taken today to deal with the profound societal changes that will accompany digitalization in the medium term."
Examples include the foreseeable radical structural change on labour markets, the replacement of real-world experiences with virtual spaces, the manifold impacts of artificial intelligence on education, employment, science and democracy, and the challenges of democratically restricting the surveillance potential of new technologies.
For these fundamental changes, which challenge our understanding of "human existence", normative guard rails are urgently needed. The WBGU therefore presents a Charter for Sustainable Digitalization, for developing the 17 SDGs further. The newly published summary report underlines one thing clearly; digitalization will create new social and economic realities. It will not automatically lead to a better world. It must be shaped actively towards the public good and foster transformations to sustainable societies.
"In short, to tame, use and shape digitalization is one of the greatest challenges of the 21st century. It is about nothing less than creating a digitally-supported transformation to sustainability, with fair prosperity for a global population of ten billion people" concluded Prof. Messner.
###
Note to editors: High-resolution images are available upon request.
About the United Nations University, Institute for Environment and Human Security (UNU-EHS)
Based in Bonn, Germany, UNU-EHS conducts research on risks and adaptation related to environmental hazards and global change. The institute's research promotes policies and programmes to reduce these risks, while taking into account the interplay between environmental and societal factors. Research areas include climate change adaptation by incorporating insurance-related approaches, environmentally induced migration and social vulnerability, ecosystem-based solutions to adaptation and disaster risk reduction, and models and tools to analyse vulnerability and risks linked to natural hazards, with a focus on urban space and rural-urban interfaces. UNU-EHS also offers the joint Master of Science degree programme "Geography of Environmental Risks and Human Security" with the University of Bonn and hosts international PhD projects and courses on global issues of environmental risks and sustainable development.
http://ehs.unu.edu/
About the German Advisory Council on Global Change (WBGU)
The WBGU: Advising on global change politics The German Federal Government set up the German Advisory Council on Global Change (WBGU) as an independent, scientific advisory body in 1992 in the run-up to the United Nations Conference on Environment and Development (Rio Earth Summit). The WBGU's task is to analyse global environmental and development problems and to develop recommendations for action and research in the quest for solutions to these problems. Sabine Schlacke and Dirk Messner are the two co-chairs of the WBGU.
https://www.wbgu.de