2022•10•13 Bonn, Germany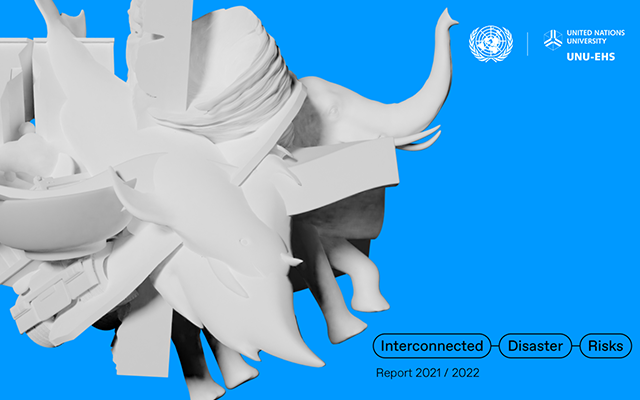 On 31 August, UNU-EHS released a new flagship report that is part of an annual publication series. Named Interconnected Disaster Risks the report analysed 10 different disasters from 2021/2022. It explains how understanding the underlying systems that connect disasters with each other and all of us can reduce disaster impacts, and in some cases prevent them altogether. This year's report highlights the interconnectivity of solutions, emphasizing that through the interconnected nature of disasters, the identified solution packages work best when they are developed and implemented in combination with each other.
The reports comes with its own website and supporting information such as an animated explainer video and human interest stories. It was featured on UN News (here and here) and several other UN accounts (eg. UNEP, UN Biodiversity, UN DESA, UN-Habitat, UNDRRR, IPBES, UNFCCC) and has so far resulted in more than 1000  international media clips (coverage still ongoing), including Reuters, Newsweek, the Daily Mail, La Nación and EFE, as well as several other top-tier outlets. Following the launch, UNU-EHS had the opportunity to elaborate on the report's findings in various internationally broadcasted interviews, such as an 'inside story' with Al Jazeera, and interviews with CNBC Africa, El Financiero Bloomberg and EuroNews, to name a few.