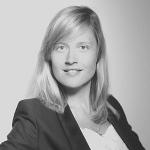 INSTITUTE:

UNU-EHS

OFFICE:

E-MAIL:

yuzva@ehs.unu.edu

PHONE:

+49-228-815-0329

NATIONALITY:

Canada
Research Interests
adaptation
Climate Risk Insurance
comprehensive climate risk management
Education
PhD. Candidate, VU University of Amsterdam, The Netherlands
M.P.A., Queen's University, Canada
B.Sc. (Hons), University of Toronto, Canada
Biographical Statement
Ms. Kristina Yuzva Clement is working as a Project Associate for the Munich Climate Insurance Initiative (MCII) hosted at UNU-EHS in close collaboration with the Deutsche Gesellschaft für Internationale Zusammenarbeit (GIZ). The project aims to develop a strategic framework for low income countries and emerging economies in finding ways to implement climate risk insurance solutions in an integrated climate risk management approach.
Ms. Yuzva Clement is also a PhD. candidate at the Department of Environmental Economics, Institute for Environmental Studies at the VU University, Amsterdam. She has a multi-disciplinary academic background having completed a Master's in Public Administration and Honours Bachelor of Science degree in Canada.
Ms. Yuzva Clement has also been involved on a number of adaptation-oriented projects including working as a Congress and Publications assistant for the "2nd Annual World Congress on Cities and Adaptation to Climate Change" for ICLEI-Local Governments for Sustainability. In her role as a publication assistant, she wrote two introductory chapters and edited the book, "Resilient Cities: Cities and Adaptation to Climate Change – Proceedings of the Global Forum 2011."
Ms. Yuzva Clement has also worked as a Research Assistant for UNU-EHS: Environment Migration, Social Vulnerability, and Adaptation Section (EMSVA) where she coordinated and wrote a background literature review to the United Nations Framework Convention on Climate Change SBI Work Programme on loss and damage distributed at four regional workshops across the globe. She is also a contributing author for the Working Group II for the IPCC's Fifth Assessment Report.