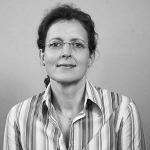 INSTITUTE:

UNU-EHS

OFFICE:

E-MAIL:

hattenbach@ehs.unu.edu

PHONE:

+49-228-815-0212

NATIONALITY:

Germany
Research Interests
Education
1994: Diplom Betriebswirtin (FH), BA Business Adminstration, Hochschule Kempten, Germany
1990: Hotelfachfrau, Diplom in Hotelmanagement, Schlossparkhotel and GWA Bonn, Germany
Biographical Statement
Ms. Karen Hattenbach has extensive experience in international Corporate Relations Building, Education Programme Organisation and Career and Events Management. She is a German national who has spent over 20 years living and working in France, the UK and Belgium.
Ms. Hattenbach started her career in the international hotel/congress/events management industry, followed by an European Commission experience, enjoying the multicultural environment during a time of breaking down of borders and liberalization of markets. She joined a small Consultancy specialized in corporate partnerships and M&A between French and German SMEs where she helped potential partners to connect and facilitated their communication.
Ms. Hattenbach was able to build on her international events organization skills in the Management Education Sector when she took her first assignment with an internationally renowned Business School. She moved later into Career Services for MBA students, to build worldwide corporate partnerships and advise graduates in their career choices for a range of Industries within an international and competitive market.
Ms. Hattenbach joined UNU-EHS in 2014 where she contributes to the education of international specialists that will help to tackle some of the world's biggest challenges. She manages the planning, organisation, administration and implementation of the newly launched Joint MSc. Programme "Geography of Environmental Risks and Human Security" in close collaboration with the Programme Director and the Department of Geography of the University of Bonn.