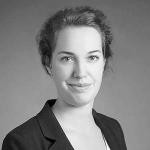 INSTITUTE:

UNU-EHS

OFFICE:

E-MAIL:

braun@ehs.unu.edu

NATIONALITY:

Germany
Research Interests
Climate Change
Environmental Pollution & Food Safety
Education
MSc., Agricultural Crop science, Rheinische Friedrich-Wilhelms-Universität Bonn , Faculty of Agricultural Sciences, Germany
BSc., Agricultural Science, Rheinische Friedrich-Wilhelms-Universität Bonn, Faculty of Agricultural Sciences, Germany
Biographical Statement
Ms. Gianna Braun is a Visiting scientist, completing her PhD thesis within the DeltAdapt project at the UNU-EHS. She holds a Masters Degree in agricultural science with a focus on plant science.
During her masters study at the University of Bonn, she developed a deeper knowledge in the field of soil science including soil chemistry and soil ecology.
Ms. Braun's research interests focus on the concentration and application rates as well as on the fates of pesticides and antibiotics used in agriculture and aquaculture and the changes of these rates and fates due to increasing salinity intrusion and salinity driven land use changes in the coastal areas of the Red River and Mekong Delta, Vietnam.