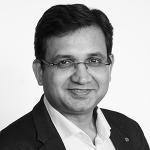 INSTITUTE:

UNU-EHS

OFFICE:

E-MAIL:

chapagain@ehs.unu.edu

NATIONALITY:

Nepal
Research Interests
Adaptation costs and finance
Climate change adaptation and disaster risk management
Risk and resilience analysis
Education
Ph.D. (Dissertation title: detection and attribution of spatiotemporal trends of climatic disaster mortality in Nepal), Center for Development Research, University of Bonn, Germany
Master's in Environmental Science, Tribhuvan University, Nepal
Bachelor's in Environmental Science, Tribhuvan University, Nepal
Biographical Statement
Dr. Dipesh Chapagain has been a Senior Research Associate in the Global Mountain Safeguard Research (GLOMOS) programme at UNU-EHS since July 2023. The GLOMOS programme aims to enhance disaster risk reduction (DRR), climate change adaptation (CCA) and emergency response preparedness (ERP) in global mountains. Within UNU-EHS, Dipesh is primarily engaged in strategic project development, acquisition and implementation, with a specific focus on the Hindu Kush – Himalaya region, Central Asia and African countries.
Dipesh completed his Ph.D. studies at the Center for Development Research, University of Bonn, in 2023. His doctoral research focused on the detection and attribution of spatiotemporal trends of climatic disaster impacts and vulnerability in a low-income country's context. Dipesh was awarded the Heinrich-Böll Foundation Doctoral Scholarship and the IIASA Young Scientists Research Fellowship for his Ph.D. project in Germany and Austria. He holds a master's and bachelor's degree in environmental science from Tribhuvan University, Nepal.
Previously, Dipesh completed an Alexander von Humboldt Foundation research fellowship in Climate Analytics in Berlin. Moreover, he has several years of experience in managing research and advocacy projects with UNDP Nepal, Oxfam and Clean Energy Nepal. His contributions extend to multiple peer-reviewed articles, and notably, he has served as a lead author for the UNEP Adaptation Gap Report spanning from 2021 to 2023.