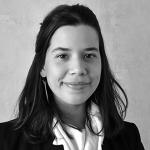 INSTITUTE:

UNU-EHS

OFFICE:

E-MAIL:

sabino-siemons@ehs.unu.edu

PHONE:

+491782633240

NATIONALITY:

Brazil, Germany
Research Interests
Disaster risk reduction
nature-based solutions
Vulnerability & Risk Assessment
Education
MSc., Earth Sciences, Free University of Amsterdam, Faculty of Science
B.A. Political Sciences, Free University of Berlin, Otto-Suhr Institute, Department of Political and Social Sciences
Biographical Statement
Anne-Sophie Sabino Siemons works as a Research Assistant in the context of the European Drought Observatory for Resilience and Adaptation (EDORA) project, which aims to support the European Drought Observatory by establishing an impact-based, multi-sectoral risk assessment methodology. In this project, she is developing conceptual models of drought risk for different sectors and systems, based on literature review and expert consultations.
Prior to working at UNU-EHS, Anne-Sophie worked as Student Assistant at the Free University of Amsterdam's Institute of Environmental Studies (IVM). There, she assisted in a project on coastal flood risk, and in a course on the causes and consequences of environmental change.
Anne-Sophie holds an MSc in Earth Sciences from the Free University of Amsterdam, with a specialization in Global Environmental Change and Policy. In her studies, she explored the subjects of vulnerability and adaptation associated with extreme events and graduated with a thesis on social vulnerability to coastal hazards in Beira, Mozambique, which involved extensive fieldwork (household surveys). She holds her B.A. in Political Sciences from the Free University of Berlin, where she graduated with a thesis on right-wing populism and climate change discourses.
Anne-Sophie's main research interests are in risk assessments and mitigation and adaptation strategies. She is particularly interested in the interaction between hazards, such as droughts and floods, as well as their hazard reducing measures, and the move to a holistic risk management approach. Within the range of mitigation and adaptation strategies available, she has a particular interest in nature-based solutions.