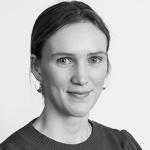 INSTITUTE:

UNU-EHS

OFFICE:

E-MAIL:

fry@ehs.unu.edu

NATIONALITY:

Sweden
Research Interests
Environmental change
Human (im)mobility
Migration governance
Education
MSc Sustainable Development, University of Exeter
BSc Development Studies, Lund University
Appointments
2020-2022 Research Assistant Lund University Centre for Sustainability Studies (LUCSUS), Sweden
Biographical Statement
Claudia Fry is currently a Research Associate in the EU HORIZON 2020 RethinkAction project and the EU HORIZON 2020 LOCOMOTION project at the EMIC section. In the RethinkAction project she contributes to research on adaptation and mitigation solutions, and in the LOCOMOTION project she contributes to research on migration, health and inequality. She recently completed her MSc in Sustainable Development at University of Exeter. Her dissertation explored the dynamics of female migration in a changing coastal environment in Ghana through quantitative analysis of survey data from the Volta Delta. This included exploring female migration from an intersectional perspective, and was built on her wider research interest in (im)mobility in coastal areas, gender, intersectionality and the nexus between migration and ocean governance.
During and prior to her master's, she has worked as a research assistant at Lund University Centre for Sustainability Studies (LUCSUS) where she was involved in the Belmont Forum project Migration, Transformation, Sustainability (MISTY) and the HORIZON 2020 project Migration Governance and asYlum Crises (MAGYC). In the MISTY project, her research focused on understanding how migrants are embedded within local and national sustainability narratives and illuminating the (unrecognized) potential of migration to contribute to transformations towards sustainability. She also supported research exploring transformational governance of the migration-sustainability nexus. In the MAGYC project she conducted research on horizontal local migration governance in Sweden to understand processes towards social inclusion. She has worked with theories of political ecology, environmental justice and solidarity to question and disentangle misconceptions about migration and to make space for more empathetic and transformative approaches to the governance of human mobility in the Anthropocene.
Beyond her experience in research and academia, she has volunteered for NGOs to support young asylum-seekers and in youth organizations to promote youth leadership and cross-cultural collaboration. She has also lived and studied in Nicaragua, and has a strong interest in issues related to climate mobility and gender in the Latin American region.