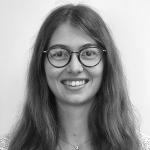 INSTITUTE:

UNU-EHS

OFFICE:

E-MAIL:

link@ehs.unu.edu

NATIONALITY:

Germany
Research Interests
Climate Change
Environmental change
Human (im)mobility
Education
PhD student at Philipps-University Marburg, Germany- Economic Geography and Location Research with focus on impacts of climate change on human mobility and health (2021 to date)
M.Sc. Global Change Ecology, University of Bayreuth, Germany (2019-2021)
B.Sc. Geography with minors in Environmental Sciences and Urban Studies, Southern Illinois University, Edwardsville, United States (2015-2019)
Appointments
2021 to date: Chairwoman of Gender Equality Commission of the Department of Geography at Philipps-Universität Marburg
Biographical Statement
Ann-Christine Link is part of the EMIC team, and has a research focus on climate-related human (im)mobility and how it can be most effectively integrated into climate policies such as NAPs (National Adaptation Plans) and NDCs (Nationally Determined Contributions). In a joint project with FAO, Ann-Christine and colleagues developed a global guide and toolkit on integrating human mobility from a rural livelihoods perspective into NAPs and NDCs. This research project broadened her so-far-quantitively-focused skill sets by learning and applying qualitative methods such as conducting in-depth interviews and focus group discussions. The global guide and toolkit delivers guidance on how to strengthen cooperation, coordination and coherence amongst relevant stakeholders and provides a set of ten tools to help policy and decision makers to achieve the previously communicated goal.
Her passion for climate-related human (im)mobility issues started developing during her internship at UFZ, Leipzig where she was part of the research project Food Water Energy for Urban Sustainable Environments (FUSE). Here she first came into touch with resilience conceptualizations and quantification approaches for Indian migrants in Pune, Maharashtra. Her Master's thesis and first published journal article focused on exactly that topic and highlight the importance of considering migration biographies when conceptualizing and quantifying resilience. Since her research interest was sparked by her education and internships, Ann-Christine decided to continue her journey as a researcher by starting a PhD in 2021 at Philipps-Universität Marburg where she researches the impacts of climate change on human health and human (im)mobility in Europe.
Ann-Christine is driven to work in the field of climate-related human (im)mobility to empower migrants, displaced, relocated and/or immobile people and to give them a voice since they often tend to be drowned out. One additional goal as a researcher is to also tackle the negative notions and prejudices regarding human (im)mobility but specifically migrants by highlighting the positive aspects of migration, for example, migration as adaptation.