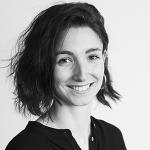 INSTITUTE:

UNU-EHS

OFFICE:

E-MAIL:

heijden@ehs.unu.edu

PHONE:

+49-(0)-228-815-0283

NATIONALITY:

France, The Netherlands
Research Interests
Climate Change
Critical Infrastructure Resilience
Disaster risk management
Disaster risk reduction
Forecast-Based Financing
Education
Master's Degree in International Affairs and development – Peace Studies Major, at Dauphine-PSL University, France
Bachelor's Degree in Humanities - Law-Economics-Management Major, at Paris-Nanterre University, France
Appointments
2021-2022: Member of the Working Group on Disaster Risk Reduction and Climate Change at IFFO-RME (Institut Français des Formateurs Risques Majeurs et protection de l'Environnement)
2019 - 2020: Treasurer of the "Association Peace Studies Dauphine"
Biographical Statement
Sophie van der Heijden is a Project Associate for the NOWATER project. This project addresses emergency preparedness planning for water supply and sanitation in health care facilities and aims to find organizational and technical strategies to increase resilience. As part of this project, Sophie focuses on the social and organizational aspects of resilience building and emergency preparedness.
Sophie also supports the Climate Resilience Initiative. Together with UNU institutes from Belgium (UNU-CRIS) and the Netherlands (UNU-MERIT), UNU-EHS aims to learn from the gaps in the preparedness and emergency response of the July 2021 European floods to better prepare for future extreme weather events. She focuses on multi-risk and multi-level transboundary governance systems.
Sophie graduated from a Peace Studies – International Affairs and Development Master's Degree, from Dauphine University in partnership with l'École Normale Supérieure de Paris. This Master offers a specialization in disaster and conflict management. As she is very interested in disaster management and climate change, she completed her end-of-study internship at the French Red Cross as an assistant in Disaster Risk Reduction and Climate Change Adaptation. In particular, she led some research work on the Forecast-Based Financing mechanism and explored how this system could be adapted for pastoral populations in Sahel facing the risk of drought. Then, she worked at the French Training Institute for Major Risks and for the Environment (IFFO-RME: Institut Français de Formation pour les Risques Majeurs et l'Environnement), supporting its annual newsletter publication and the implementation of trainings on disaster risk reduction.
Before specializing on disaster risk management issues, Sophie focused her efforts on environmental and peace building issues, volunteering for one year for both PLAY International in Kosovo and the Fondation Robert Schuman in Paris.