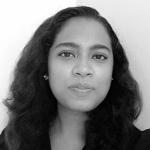 INSTITUTE:

UNU-EHS

OFFICE:

E-MAIL:

johns@ehs.unu.edu

NATIONALITY:

India
Research Interests
Health and well-being
Migration and social mobility
Public health policies
Education
Ph.D., Efficacy in Cancer Treatment: A Study on Physician, Caregiver and Patient Narratives in Kerala., Jawaharlal Nehru University, School of Social Sciences, Centre for the Study of Social Systems (CSSS), India
M.Phil. in Public Administration with a specialization in Public Policy, University of Madras, Madras Christian College (MCC), India
M.A. in Public Administration, University of Madras, Madras Christian College, India
B.A. (Hons) in History, University of Delhi, St. Stephen's College, India
Appointments
2016-2018: Research Assistant for Joint Research Project under the ICSSR (India) – NIHSS (South Africa): The antinomies of public health and economic growth: A Comparative History of nutrition and reproductive health in post- liberal India and South Africa
2011-2014: International Advocacy & Research Officer in National Campaign on Dalit Human Rights (NCDHR), Swadhikar
Biographical Statement
Dr. Hannah Johns is currently a Senior Research Associate on the PROWELLMIGRANTS project at UNU-EHS EMIC section. She was awarded a doctoral degree in 2020 through her PhD thesis titled 'Efficacy' in Cancer Treatment: A Study on Physician, Caregiver and Patient Narratives in Kerala'. Her study focused on the sociology of health and illness – cancer and palliative care, illness narratives, its cultural contexts and its impact on health policies. The field study was conducted in the Ernakulam district of Kerala, India adopting narrative analysis as main method for her research.
She was part of a collaborative project from 2016-2018 by National Institute for Humanities and Social Sciences (NIHSS) – South Africa and Indian Council for Social Science and Research (ICSSR) – India on nutrition and reproductive health in South Africa and post liberal India, and the field study was conducted in Cape Town.
Before her doctoral studies, she was working in the social development sector. She has worked with National Campaign on Dalit Human Rights (NCDHR), Swadhikar, New Delhi as International Advocacy and Research officer. Her core area of work included identification and engagements with international institutions and UN Human Rights mechanisms which focused on Dalit rights.
Representing NCDHR and International Movement Against All Forms of Discrimination and Racism (IMADR), she made an intervention with the Special Rapporteur on extreme poverty and human rights and the Special Rapporteur on human rights obligations related to safe drinking water and sanitation in the United Nations Human Rights Council – 21st Regular Session.
With her interdisciplinary background, she has undertaken independent consultancies with various NGOs working for social inclusion and those affected by discrimination based on work and descent. Her recent collaboration was with the International Labour Organization on a short-term project on the migration of allied health professionals from India. She has received training on Human Rights, International Law and Procedures hosted by Global Training Development in Geneva for Human Rights.