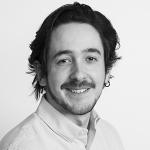 INSTITUTE:

UNU-EHS

OFFICE:

E-MAIL:

turmena@ehs.unu.edu

NATIONALITY:

Brazil
Research Interests
Climate Change
Environmental justice
Sustainable development
Urban environmental planning and management
Education
MSc. Environment and Sustainable Development – University College London (UK)
PostGrad Diploma in Municipal Public Management – Federal University of Paraná (Brazil)
BA Architecture and Urban Planning – Federal University of Paraná (Brazil)
Biographical Statement
Lucas Turmena is a Project Associate for the Transformative Urban Coalitions project. He has a BA in Architecture and Urban Planning and a PostGrad Diploma in Public Management, and both degrees were obtained at the Federal University of Paraná (UFPR), Brazil. He also completed an MSc. in Environment and Sustainable Development at University College London, after being awarded a Chevening Scholarship by the UK government. During his master's degree, he was selected for the Development Planning Unit Dissertation Fellowship and wrote a dissertation with the support of the Habitat International Coalition and Instituto Pólis on the promotion of environmental justice through policy in São Paulo. 
Prior to graduating, Lucas has engaged in initiatives related to public participation as a right, such as the organization of a meeting for almost 2000 students to discuss the Right to the City. During a year abroad at the Technische Universität Berlin, he had his first experience researching environment-related topics with the interdisciplinary team of INNOVATE Project, which aimed at the elaboration of innovative guidelines for the sustainable use of resources in the Itaparica Reservoir region. He also worked as a student assistant at UFPR, in a project that undertook an impact assessment of master plans of several cities in the state of Paraná.
He has gained professional experiences in the field of applied sustainability as an intern for a consulting firm and for an architecture office. Seeking an insider's view from the government, he worked as a Public Policy Analyst at Niteroi's City Government, under a Public Management Graduate Scheme with Vetor Brasil, an NGO that connects young people with impact projects in the Brazilian government. In this position, he designed projects to incorporate the perspective of various sectors in the solution of public problems, such as a laboratory for urban innovation and a hackathon for smart city solutions.
He also worked as a Regional Officer for Low-Carbon Development at ICLEI South America, participating in the implementation of international cooperation projects with local governments from Brazil, Colombia and Argentina. Through the LEDS Lab and 100% Renewable projects, he fostered capacity building in the public sector, informed decision makers in the development of action plans and supported the access of local governments to funds for their climate action projects.
In his current position as Project Associate at UNU-EHS, he supports the integration of transformative pathways to zero carbon trajectories in cities of Latin America.