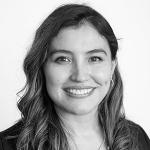 INSTITUTE:

UNU-EHS

OFFICE:

E-MAIL:

panchi-robles@ehs.unu.edu

PHONE:

+49-228-815-0327

NATIONALITY:

Ecuador
Research Interests
Climate change adaptation and disaster risk reduction
Climate-related risk
Community resilience
Education
M.Sc. Natural Resources Management and Development, Cologne University of Applied Sciences, Institute for Technology and Resources Management in the Tropics and Subtropics.
Master in Project Management, OBS Business School and University of Barcelona
Multilingual Bachelor in Business and International Relations, Pontifical Catholic University of Ecuador
Appointments
2020 - present: Member of the Latin American and Caribbean Women in Conservation Network
2016: Co-coordinator and Information Management Early Recovery Cluster – Humanitarian Team Country, UNDP Ecuador
2014-2015: GEF Operational Focal Point for Ecuador (Delegated by Lorena Tapia, Minister of Environment of Ecuador)
2014-2015: Advisor to the Council Member of the Constituency (Colombia, Brazil and Ecuador) to the Global Environmental Facility (GEF)
2014-2015: Focal Point of Ecuador for "The Economics of Ecosystems and Biodiversity (TEEB) Initiative" - United Nations Environment Programme (UN Environment)
2013-2015: Resource Mobilisation National Focal Point to the Convention on Biological Diversity (CBD)
2011-2013: Member to the Latin American and Caribbean Network of Environmental Funds (REDLAC)
Biographical Statement
Sofía Panchi Robles holds a Master of Science in Natural Resources Management and Development from the Cologne University of Applied Sciences, in Germany. She was awarded a DAAD Scholarship and her master's thesis research focused on enhancing resilience of peasant farmers to climate-related risks in the Pedro Carbo canton, in Ecuador. In addition, she obtained a master's degree in Project Management from the University of Barcelona and the OBS Business School, and a bachelor's degree in Business and International Relations from the Pontifical Catholic University of Ecuador.
At UNU-EHS, Ms. Panchi Robles is Senior Programme Associate of Global Mountain Safeguard Research (GLOMOS) Programme, a joint endeavor of UNU-EHS and Eurac Research. The programme envisions the enhancement of disaster risk reduction (DRR), climate change adaptation (CCA), and emergency response preparedness (ERP) in global mountain regions. It thereby seeks to increase the resilience of mountain communities towards climate and disaster risks, to protect the wealth of biological and cultural diversity, and to support the sustainable development of these highly sensitive social-ecological systems.
Prior to her appointment at UNU-EHS, Ms. Panchi Robles has worked for more than seven years with the Government of Ecuador and UN Agencies, in addition to her professional internships at the GIZ in Quito in the field of governance and at the UNFCCC Secretariat in Bonn in the field of climate finance. At the United Nations Development Programme (UNDP), Ms. Panchi Robles cocoordinated the Early Recovery Cluster of the UN Humanitarian Country Team in 2016, supported disaster risk management, livelihoods recovery and local inclusive development processes. She was also responsible for the project's portfolio of the GEF International Waters focal area. Before that, at the Ministry of Environment of Ecuador (MAE), she has served as Head of the International Affairs Office of the MAE, where she coordinated a team to facilitate international environmental governance in Ecuador and had the opportunity to advise the Minister. In this position she participated in public policy design and was responsible for the international cooperation, the international environmental agreements and the negotiations within international frameworks, including the CBD, the UNFCCC, its financial mechanisms and the 2030 Agenda for Sustainable Development, where she had the opportunity to represent Ecuador in several regional, international and intergovernmental conferences. Furthermore, she has previously worked on a GEF Project for the control of invasive species in the Galapagos archipelago and at the National Biodiversity Directorate with the natural protected areas of Ecuador.
Due to her professional background, Ms. Panchi Robles developed a strong research interest in linking climate change adaptation, disaster risk reduction and sustainable development, and in bridging policy and science to build community resilience within socio-ecological systems towards transformative climate-resilient development.