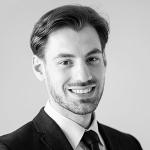 INSTITUTE:

UNU-EHS

OFFICE:

E-MAIL:

s.wagner@ehs.unu.edu

PHONE:

+49-228-815-0235

NATIONALITY:

Germany
Research Interests
Climate change adaptation
Floods
Risk transfer
Education
M.Sc., Geography of Environmental Risks and Human Security, UNU-EHS & University of Bonn Institute of Geography
B.A., Cultural Geography (Economics minor), University of Erlangen-Nuremberg, Institute of Geography
Biographical Statement
Simon Wagner works as a PhD Researcher at the Munich Climate Insurance Initiative (MCII), and is deployed to conduct research within the German-African inter- and transdisciplinary project CLIMAFRI, which is funded by the German Federal Ministry for Education and Research (BMBF), on the potential role of insurance mechanisms for adaptation to flood risk and how they can complement or improve existing risk management and risk sharing strategies. The working title of his Ph.D. project is "Assessing the potential role of insurance mechanisms in adaptation strategies – Reducing residual flood risk in the transboundary Lower Mono River catchment in Togo and Benin".
Prior to taking up his position at MCII, Simon has collected working experience as an intern at the NatCatSERVICE database at Munich Re, at the Global Initiative on Disaster Risk Management (GIDRM) at Deutsche Gesellschaft für Internationale Zusammenarbeit (GIZ) as well as with MCII. He additionally worked as an interviewer for the United Nations University's Institute of Environment and Human Security (UNU-EHS) in the project "CIRMin – Critical Infrastructures Resilience as a minimum supply concept" and as a working student in the field of Geographic Information Systems (GIS) and Data Management at AED Synergis GmbH.
Simon holds a B.A. in Cultural Geography with side subject Economics from the University of Erlangen-Nuremberg, in which he focused on Urban Geography and Geographic Information Systems (GIS). Additionally, he is a graduate of the Master's programme "Geography of Environmental Risks and Human Security" (M.Sc.) at UNU-EHS which focuses on Disaster Risk Reduction and Climate Change Adaptation, and during which he worked as a GIS tutor in the Master's module "Using GIS in the context of Disaster Risk Reduction". In the scope of his Master's thesis he completed field work in Lagos, Nigeria on factors which are enhancing collective adaptation to floods through comparative case studies of communities.