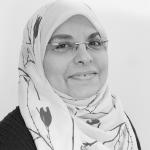 INSTITUTE:

UNU-EHS

OFFICE:

E-MAIL:

elmaadawi@vie.unu.edu

NATIONALITY:

Egypt
Research Interests
Education
Globalization
Health
Technology
Education
Joint Master Degree in International Education Management (INEMA), Universities of Ludwigsburg (Germany) & Helwan (Egypt), 2015
Professional Certificate Expert of New Learning Technology, Furtwangen University, Germany, 2009
M.D. (Ph.D.) Basic Medical Sciences, Faculty of Medicine, Cairo University, Egypt
M.Sc. Basic Medical Sciences, Faculty of Medicine, Cairo University, Egypt
Bachelor of Medicine & Surgery (grade excellent with honor), Faculty of Medicine, Cairo University, Egypt
Appointments
2015-2018: Head of Technology Enhanced Learning (TEL), Faculty of Medicine, Cairo University, Egypt
2017-present (on leave): Professor of Histology & Cell Biology, Faculty of Medicine, Cairo University, Egypt
2010-2014: e Learning Consultant, Deutsche Gesellschaft für Internationale Zusammenarbeit (GIZ) e Academy, Germany
October-November 2014: Fellow at the Business & Market Development Team, Coursera, USA
April-September 2014: Academic visitor/Sponsored researcher, Institute for Cardiovascular Sciences, Faculty of Medical & Human Sciences, The University of Manchester, UK
October-November 2013: Intern at the Leadership Development Department, Academy of International Cooperation (AIZ), GIZ, Germany
2006-2015: Adjunct lecturer/Associate Professor & e Learning Consultant, Misr International University (MIU)
2012-2017: Associate Professor of Histology & Cell Biology, Faculty of Medicine, Cairo University, Egypt
2006-2012: Lecturer of Histology & Cell Biology, Faculty of Medicine, Cairo University, Egypt
2002-2006: Assistant Lecturer of Histology & Cell Biology, Faculty of Medicine, Cairo University, Egypt
Member of Arab American Frontiers in Science, Engineering & Medicine, the National Academies, USA, 2017
Member of Member of COSIMENA Health Cluster, DAAD Cairo office, 2017
Member of Leaders in Innovation Fellowship, the Royal Academy of Engineering, UK, 2016
Member of Member of the Horizon Project Advisory Board, the New Media Consortium (NMC), USA (2012-2014)
Member of Member of Open ECB Check e learning quality label steering committee since 2012
Biographical Statement
Zeinab El Maadawi is a professor (on leave) at the faculty of medicine, Cairo University where she works as medical educator, biomedical researcher & e-learning manager. She developed evident experience in international education management in higher education & international development cooperation through multilateral development projects that addressed health education, science communication, e-learning capacity development, and Sustainable Development Goals (SDGs) orientation.
She is passionate about using the added value of emerging technologies to promote access to quality education & learning for all. Her expertise in technology enhanced learning includes e-learning management, instructional design, content development, tutoring of virtual communities & quality management of online environments. She is also interested in new & emerging technologies that are used to link health care delivery, medical education & biomedical research.
She has been featured as a "Techwomen Emerging Leader" by the USA Department of State, an "Arab American Frontiers Fellow" by the US National Academies of Sciences, Engineering and Medicine, and a "Leader in Innovation Fellow" by the UK Royal Academy of Engineering.
Currently, she is in charge of conceptualization, organization & management of e-learning strategy at UNU-EHS in addition to research & teaching in the field of educational technologies & management of e-learning-related projects.