2018•04•06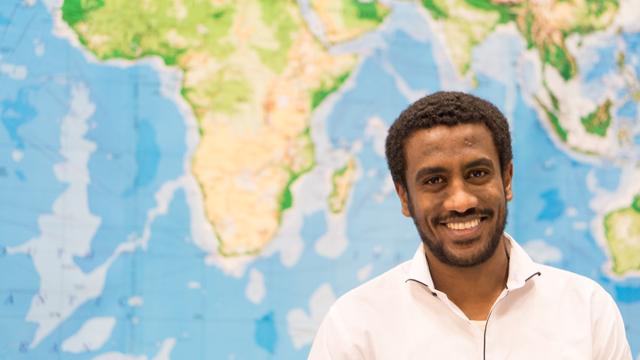 Photo: UNU-EHS
Sadame Mohammed Yimer is a PhD student at the Pan African University in Algeria. His doctoral programme is part of the Water and Energy Security for Africa (WESA) project, which aims to develop innovative scientific methods that are adapted to the local and regional context in the water and energy sector. UNU is a leading partner in this project through the Pan African Cooperation and Educational Technologies (PACET) programme hosted at UNU-ViE. The PhD students are supervised by one project partner in Germany and one partner in Algeria.
Yimer just completed a three-month research stay at the Center for Development Research (ZEF) at the University of Bonn, during which he worked closely with senior scientists. Originally from Ethiopia, he became interested in water resource management early on.
"Water is a key component for all aspects of development and above all to the existence of life. In particular to the developing countries, access to water is a big challenge."
"In Ethiopia there are promising efforts going on to tap the country's water resources potential in order to improve water access for all and to support the economy in different ways, but we still have a long way to go. I wanted to learn water management at the global level, so that I can help to develop solutions at home."
After graduating with a Bachelor in soil and water resource management from Wollo University in Ethiopia, Yimer applied to the Pan African University in Algeria, which is open to students from all African countries. At the Pan African University, Yimer thrived on working together with students from all over Africa and from different backgrounds, and moved straight onto a PhD programme after completing his Master's. His strong interest in water management stayed with him and his PhD is now focused on land use, climate and water nexus with a special focus on Ethiopia.
Yimer enjoys gaining experience at the global level with his PhD and is also open to working in an international setting after completing his PhD; his focus is however clearly on Africa. "We have to give priority to developing good solutions in Africa, and I look forward to applying all the knowledge that I am gaining in the PhD programme."
The WESA project is conducted by a consortium of partners from both Europe (Germany) and Africa (Algeria). The German consortium partners include United Nations University (UNU), the Institute for Technology and Resources Management in the Tropics and Subtropics (ITT) at the Cologne University of Applied Sciences, and the Center for Development Research (ZEF) at the University of Bonn. The Algerian partners are the Pan African University Institute for Water and Energy Sciences in Algeria and the University of Abou Bekr Belkaid in Tlemcen (UoT), Algeria.
Aside from co-supervising PhDs students, UNU is responsible for the overall project management and administration, coordination of activities related to outreach, dissemination of results and support in the establishment of a Pan African research network and beyond. UNU will also help to connect the PhD students to UN and international institutions and actors.