2018•05•14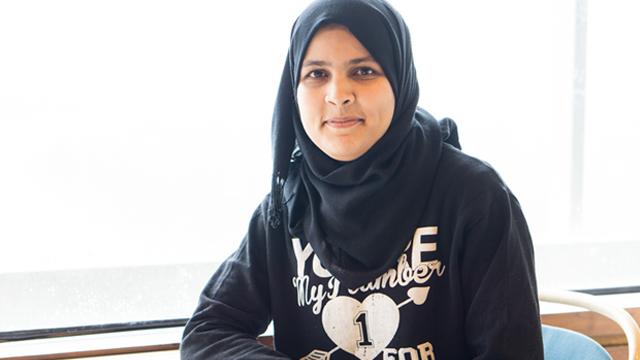 Water is critical for each of the Sustainable Development Goals, from the eradication of poverty and hunger to ensuring equal access to water and sanitation services – which is why the United Nations has designated the period from 2018 to 2028 as the Water Action Decade. Water is indispensable for human development, health, and wellbeing, and water-related challenges, including limited access to safe water and sanitation, pressure on water resources and ecosystems, disasters and an exacerbated risk of droughts and floods, have received increasing attention in the global development arena.
Like any resources, the management of water is a critical part of sustainable development, and this is something that Hanane Bougara, a PhD student at the University of Tlemcen in Algeria and part of the Water and Energy Security for Africa (WESA) project, is interested in studying.
With a background in hydraulics, Bougara decided to join the Pan African University because she was interested in broadening her horizon. She was also convinced that the partnership between Germany and Algeria would offer her unique research opportunities, such as the 3-month research stay in Germany, which she just completed. During her time in Germany, Bougara had the chance to meet face to face with her thesis supervisors from Center for Development Research (ZEF) Bonn, and also to engage with other research institutions in Bonn.
Bougara is currently defining her research proposal on water allocation model using hydrological model and climate model scenarios. "With my prior knowledge on hydraulics, which is the basis for fluids mechanics, I am interested in studying water resource management," Bougara said.
In her PhD programme, Bougara has enjoyed talking about research with experts and other students in the programme; colloquiums offered the opportunity to discuss challenges in doing research, as well as ideas to overcome them. Discussions with other students and learning about case studies from other countries have also helped her to get an understanding of different situations and perspectives. She has also appreciated the ample time given to develop the proposal; with the freedom to explore and choose her own research topic, it has given her time to find an area that she was truly passionate about: water management, using the climate model and the water allocation model.
"I like that this programme is more personal, and they also want to know about me: what I want, what I need, and what my situation is. With support like that, it's easier for me to concentrate more on my studies."
The WESA project, funded by the German Federal Ministry for Education and Research (BMBF), aims to support the development of the Pan African University Institute for Water and Energy Sciences (PAUWES) by enhancing its research activities in water and energy sciences.
UNU-ViE, as the host, is the leading partner through the Pan African Cooperation and Educational Technologies (PACET) programme. Along with Institute for Technology and Resources Management in the Tropics and Subtropics (ITT) Köln and Center for Development Research (ZEF) at University of Bonn as German partners, and the Pan African University Institute for Water and Energy Sciences and the University of Abou Bekr Belkaid in Tlemcen (UoT) as Algerian partners, UNU-EHS is involved in teaching and supervising the PhD students in the areas of energy and water. The PhD students are supervised by one project partner in Germany and one partner in Algeria.
Aside from co-supervising PhDs students, UNU is also responsible for the overall project management and administration, coordination of activities related to outreach, dissemination of results and support in the establishment of a Pan African research network and beyond. UNU will also help to connect the PhD students to UN and international institutions and actors.