2015•08•20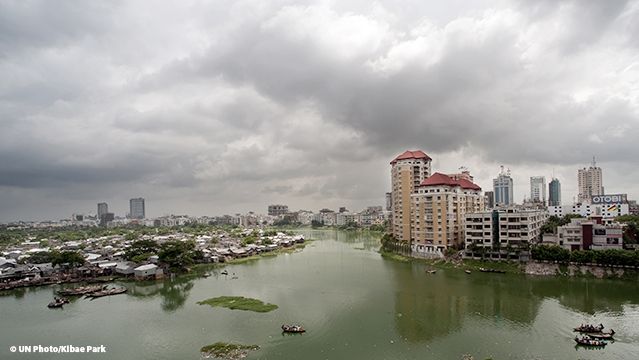 Freshwater ecosystems such as lakes, ponds, rivers, streams and wetlands are estimated to cover 15 per cent of the world's continental surface area. These inland bodies of water are bastions of biodiversity, hosting about 10 per cent of the world's animals and one-third of all vertebrate species. However, this biodiversity is being threatened by human population growth, unsustainable development, land use and water management as well as climate change. Research shows that since 1970 land species abundance has declined by 25 per cent, while freshwater species population trends show a decline by even 55 per cent for the same period.
To improve the health of freshwater ecosystems and ensure the sustainable management of global water resources, UNU-EHS has been developing the International Water Quality Guidelines for Ecosystems (IWQGES) for the United Nations Environment Programme (UNEP). These guidelines, which can be applied globally, will provide governments with a useful tool to assess and protect their freshwater ecosystems.
Going beyond clean drinking water to tackle ecosystem health
In 2010 the United Nations General Assembly recognized the human right to water and sanitation and acknowledged that clean drinking water is essential to the realization of all human rights (UN resolution 64/292). However, while many guidelines and standards exist for assessing the quality of drinking water, there are very few equivalents for assessing the quality of freshwater ecosystems where drinking water comes from. To secure clean drinking water and other water uses in the future, we need to ensure that the freshwater ecosystems stay healthy sustainably.
IWQGES is the first guidelines that address the status of freshwater ecosystems globally. What makes it unique is its focus on biological indicators next to using physico-chemical and hydromorphological indicators. Biological indicators include observing the health and abundance of fish, invertebrates and algae that are part of these ecosystems. It is important to look at biological indicators because many physico-chemical indicators only give a snapshot of a current situation. Biological indicators can give a longer term view of what has been happening in the ecosystem and can be a more sensitive measure of ecosystem health. For example a stressed water body may exhibit shifts in e.g. fish species composition, which might translate into loss of biodiversity-related ecosystem functions and services.
Man-made stressors deteriorate freshwater ecosystems
The vast majority of the pressure put on freshwater ecosystems is attributed to human activities. Throughout history, people have always preferred to settle along bodies of water. In fact, more than 50 per cent of the global human population lives within 3 km of a water body; less than 10 per cent of the population lives at a distance greater than 10 km.
The development of water infrastructure is an important stressor to freshwater ecosystem health. Infrastructure such as dams, barrages, sluices and dykes, disrupt ecosystems by interrupting the migratory routes of fish as well as the natural movement and settlement of plants and sediments. By modifying water flow, infrastructure can increase the risk of extinction of freshwater species, which often cannot adapt to the changes. Infrastructure also cuts rivers off from wetlands and floodplains that depend on them for freshwater.
Other human-related stressors include land use change such as deforestation, urban development and drainage of freshwater bodies; the introduction of invasive species; overexploitation of ecosystem resources; pollution from domestic, industrial and agricultural waste water; and climate change which can result in changes in water temperature and circulation as well as more frequent and intense extreme events such as flooding and drought.
A first step
By providing governments with advice on how to compile a comprehensive overview of the health of their freshwater ecosystems and the pressures they face, IWQGES has the potential to pave the way for effective policies to protect these valuable and irreplaceable ecosystems. The guidelines are a crucial first step towards comprehensive water quality standards, targeted monitoring programmes and further research.
The guidelines are broken down into four blocks made up of nine steps that will ultimately help governments develop their own context specific, national water quality guidelines for ecosystems. The "four blocks – nine steps" approach also gives advice on specific topics such as monitoring of the status of ecosystem health or the assessment and reporting of the monitoring results.
Preparing for the SDG's
IWQGES comes at a crucial time as the world prepares to take on the emerging Sustainable Development Goals (SDGs) in 2016. Of the 17 goals being proposed, one is dedicated to ensuring the availability and sustainable management of water. This dedicated water goal (SDG 6) stipulates several targets that focus on restoration and safeguarding of freshwater ecosystems worldwide. IWQGES has the potential to help Member States establish the necessary monitoring and rehabilitation programs to meet the goal.
Guidelines drafted by UNU-EHS' network of scientists
To develop the guidelines on behalf of UNEP, UNU-EHS called on its vast network of scientists for input. In total 12 scientists from different countries and regions around the world and specializing in different areas and ecosystems were chosen for their expertise. Expertise came from both natural and social scientists, with ecologists, economists and governance specialists offering their insights.
What's next
The final draft of the guidelines will be completed at the end of 2015 after which they will be used in regional consultations. By 2018, the United Nations Environmental Assembly (UNEA) is expected to provide final approval for the guidelines. This will enable regional, national and local authorities to apply the guidelines to improve the sustainable management of their water resources and fresh water ecosystems.
About the project
The IWQGES project (Development of International Water Quality Guidelines for Ecosystems) is coordinated by the Environmental Vulnerability and Ecosystem Services (EVES) section at UNU-EHS. It is conducted in cooperation with the Global Water Systems Project (GWSP) on behalf of the United Nations Environment Programme (UNEP).