2017•07•19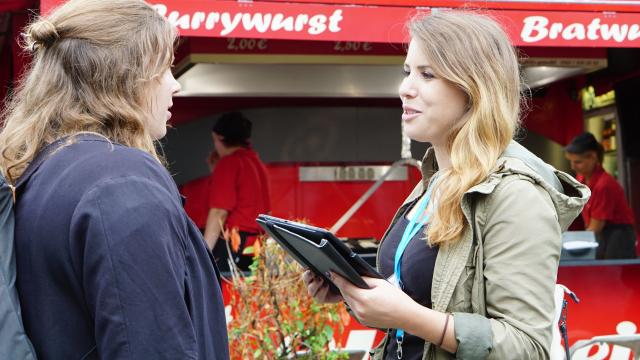 Photo by UNU-EHS/David Hewitt
In November of 2005, a severe snowstorm hit the Münsterland, the area surrounding the city of Münster in the northwest of Germany. As well as causing widespread destruction of property and significant economic damage, at its peak it left around 250,000 people without electricity, some of them for as long as six days.
The snowstorm served as a stark reminder of how it's not just in the developing world that extreme weather events can knock out critical infrastructure for a prolonged period of time. Moreover, such disruptions caused by severe weather events could become more frequent. While the Münsterland, like the rest of the country, is covered by comprehensive emergency preparedness measures, to date there has been little critical evaluation of how well-prepared individual households are to cope with major infrastructure failure, especially in terms of electricity and water. In addition, it is quite unclear which level of minimum supplies are needed for the most vulnerable groups of society (e.g. handicapped or elderly people) and who is and should be responsible for delivering such minimum supply.
The three-year multi-partner CIRmin (Critical Infrastructures Resilience as a minimum Supply Concept) project aims to assess just this. "It is quite striking how little we know about the societal vulnerability to infrastructure failure and the requirements for minimum supply" says Dr. Matthias Garschagen, Head of the Section for Vulnerability Assessment, Risk Management and Adaptive Governance (VARMAP) at UNU-EHS. "Even more remarkable, the ethically and politically sensitive question of who should be taking care of securing minimum supply for the most vulnerable is surprisingly contested within society.", he argues. Dr. Simone Sandholz, senior scientist in the project, adds that "in particular, the want to find out whether there is a supply gap between official contingency plans and personal preparedness measures at individual or household level – and whether this gap differs along specific societal groups."
To find this out, Dr. Sandholz, along with VARMAP Research Associate Mia Wannewitz, recruited a team of student assistants to conduct a survey on the question of just how ready the residents of Cologne are for a possible power cut or water outage lasting several days or more. In all, 1,500 individuals from six key demographics (retired and independent, retired and living in a care home, newly-independent students, single adults, families, and independently living refugees), will be questioned over the summer of 2017, with the data to then be collated and assessed by all the project partners.
Even with much of the on-the-ground research still to be done, some tentative conclusions can already be made. "In many cases, respondents simply dismiss the idea that, living in this part of the world, they are likely to be without electricity or water for any longer than just a day or even few hours," explains Ms. Wannewitz. "This is the case across all demographics; it's clear that most people simply take this infrastructure for granted."
Such an attitude would help explain one other notable trend emerging from the research, namely the apparent gap between official contingency plans and personal preparedness. As Dr. Sandholz explains: "We can already see that only around half of all the people we asked have enough water to sustain themselves for between three and five days. Notably, the federal contingency plans assume that most people will have their own stockpiles and so just 30% of households will need water from emergency wells and other supplies – that's a big gap between top-down planning and the reality on the ground."
The findings might soon help the German authorities to further improve disaster preparedness and response plans as well as to tailor awareness campaigns. Moreover, on a wider level, it is hoped that the research will help contribute to the ongoing global conversation about critical infrastructure and resilience to extreme weather events, most notably in discussions linked to the Sendai Framework for Disaster Risk Reduction. The results will also be compiled in a future publication, including a prospective policy document based on the findings.
"Having a reliable infrastructure is at the heart of development," Dr. Sandholz concludes. "But if people are relying on their governments for emergency supplies and so lowering their personal resilience, they could leave themselves vulnerable to the impacts of natural hazards, whether they live in northwest Germany or in the developing world."
The CIRmin project is conducted by a large consortium of partners from science, policy and practice, including UNU-EHS, the German Institute of Rescue Engineering and Civil Protection (IRG) of TH Köln – University of Applied Sciences, and financed by German Federal Ministry of Education and Research. To find out more about the project, click here.