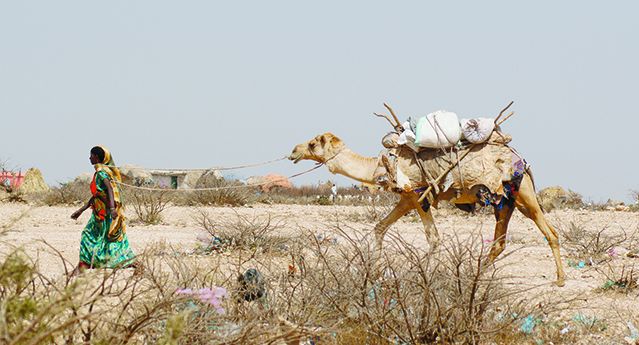 Photo by Sönke Kreft/UNU-EHS
EMSVA undertakes pioneering research on how society manages climate stressors such as floods, drought, storms, sea level rise, and climatic shifts. The section works with governments, the private sector, and civil society to identify and design innovative climate risk management solutions to build resilience. Specific themes of adaptation-related research include 1) human mobility, 2) livelihood resilience including loss and damage, and legal dimensions of global environmental change, and 3) climate risk insurance.
Climate Change and Human Mobility. EMSVA undertakes field-based empirical research that feeds into policy processes (especially the climate negotiations) and practice (particularly risk management and adaptation) in the emerging field of climate change and human mobility. It is one of the influential nodes in the topic, and has helped bring the topic into policy, such as in the UNFCCC (paragraph 14(f) of the Cancun Adaptation Framework, paragraph 7a(vi) of the Doha Climate Gateway Decision on loss and damage) and has contributed to other policy areas spearheaded by our partners such as Nansen Initiative, the Global Forum on Migration and Development, IOM and UNHCR.
Livelihood resilience. EMSVA research on social vulnerability and social resilience vis-à-vis climatic threats aims to understand livelihoods in the face of environmental stressors in the global South, with a focus on Bangladesh. We are designing and implementing community-based knowledge-to-action plans that increase livelihood resilience. This cross-cutting group contributes to human mobility work, as well as to loss and damage, and climate justice. The Munich Re Foundation and a network of scholars take part in this work through annual academies.
The Munich Climate Insurance Initiative (MCII) hosted at UNU-EHS is a leading think tank on climate change and insurance. MCII aims to enhance resilience and protect livelihoods of vulnerable communities, through pioneering risk management and risk transfer solutions in combination with other approaches to manage climate related risks. MCII develops and implements innovative insurance related solutions that target climate-vulnerable communities around the world. MCII shares lessons learned and good practices with development practitioners, insurance providers, climate experts and policymakers. MCII explores approaches that buffer vulnerable communities against climate stressors within comprehensive risk management strategies.
Learn more about our Research Projects