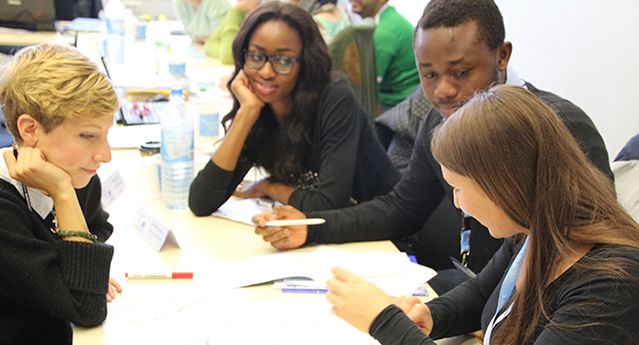 EduSphere investigates the teaching – research nexus to enhance graduate education and capacity development at UNU-EHS. The section conceptualizes and implements the use of innovative methodologies, technologies, and best practices across a full range of education and training activities including technology enhanced learning. As a principle goal, EduSphere aims at strengthening the research and educational capacities of UNU-EHS, its partner institutions as well as scientists and practitioners on a global scale.
EduSphere offers educational programmes such as the Joint Master (M.Sc.) "Geography of Environmental Risks and Human Security" with the University of Bonn, an intensive summer course on "Advancing Disaster Risk Reduction to Enhance Sustainable Development in a Changing World" as well as two training modules on Disaster Risk Reduction in West Africa within the framework of the WASCAL Project (West African Science Service Center on Climate Change and Adapted Land Use) in direct support of the Master programme on "Climate Change and Human Security" in Togo (together with UNOCHA, ROWCA, and the Togolese Red Cross) and the M.Sc. on "Climate Change and Education" at the University of The Gambia.
The section translates research findings from UNU-EHS into educational resources in the field of environment and human security, focusing on environmental and social dimensions of vulnerability and risk management, ecosystem services, environmental impact assessment and adaptive planning, environmental migration, disaster management as well as sustainable use of natural resources. In addition, Edusphere seeks to advance the use of geospatial information technology for emergency response preparedness, Early Warning Systems for Disaster Risk Management, and disaster assessment and coordination within the United Nations System.
EduSphere conceptualizes and generates eLearning materials in relation to the core competency of UNU-EHS. Its multimedia lab is equipped with appropriate hard- and software components to support the design and development of multimedia based educational resources for online and offline purposes. The digital learning environment at EduSphere supports the management of educational programs, the communication and collaboration with the UNU-EHS community of practice and the dissemination of content produced by UNU or in collaboration with partners.
Further activities of EduSphere include the coordination and management of continuous scientific colloquia at UNU-EHS as well as the institute´s Visiting Scientist and the International Internship Programme.
Learn more about our Research Projects