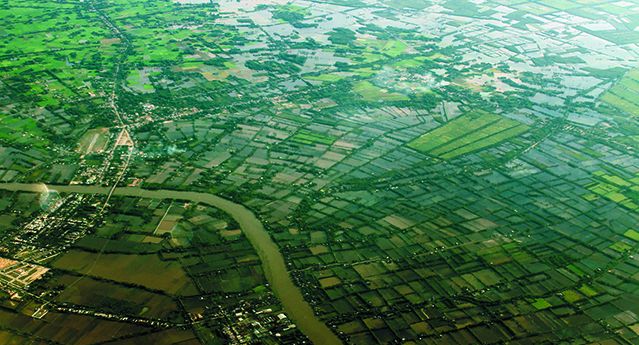 Photo by UNU-EHS/Kees van der Geest
VARMAP develops and applies conceptual frameworks and scientific methods to assess socio-economic vulnerability and risk in the context of natural hazards, environmental change and societal transformation.
The section explores opportunities to reduce risks and to evaluate competing adaptation options. In doing so, VARMAP examines ways to strengthen adaptive governance, i.e. the continuous adaptation of institutions which is necessary for any successful adaptation process and goes beyond the adjustment of physical infrastructure and economic practices.
The section is particularly interested in understanding the synergies but also rifts between state and non-state action in adaptation processes and promotes integrated governance solutions.
VARMAP has a strong focus on urban areas and rural-urban linkages. Drawing on scenario techniques and dynamic assessment tools, it examines the trends in vulnerability and adaptive capacity as societies undergo wider cultural, economic, demographic and political transformation. Analyzing the interplay between urbanization pathways and shifts in risk profiles is one of the section's specific areas of research.
VARMAP convenes an interdisciplinary team of researchers and has a wide network of scientific and practical partners. It draws on a mixed methods approach, integrating qualitative and quantitative tools for the analysis. The section combines a global focus with clusters of specific regional expertise, notably in Southeast Asia, South Asia, East Asia, West Africa and Europe.
Learn more about our Research Projects.